– 6 ITALIAN SOLDIERS KILLED IN KABUL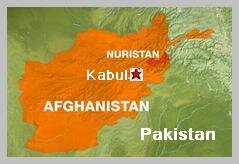 At least 10 people, including 6 Italian soldiers, have been killed in a bomb attack on a military convoy in the Afghan capital, Kabul, on Thursday 09/17/2009, Italian defence officials say (See in context – Nasiriya Bombing).
Reports said two Italian military vehicles, serving with NATO-ISAF, were hit by the bomb. At least 38 others were injured in the attack, the Afghan health ministry said.  The bomb went off near Kabul's diplomatic quarter in the city centre near USA Embassy.
The blast comes as Afghan President Hamid Karzai reaffirmed his belief in last month's election process.  08/2009 presidential election has been overshadowed by widespread allegations of fraud (see – THE-SHOW).
A NATO-ISAF spokesman was unable to confirm the casualties, telling AFP: "We have no information about any Nato or Isaf involvement." 
.
* Related topics –  
–
09/2009 -STEPHNE FARRELL RESCUED IN AFGHANISTAN 
.
************N*************
–