– 4 MILITANTS KILLED IN INDOMESIA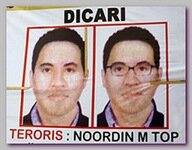 At least four people have been killed, on Wednesday 09/16/2009 night, during a police operation against suspected militants on the island of Java, reports from Indonesia say. Police also found a cache of grenades in the house as well as eight sacks of explosives.
The reports say armed police raided a house in the outskirts of the central city of Solo that is believed to be a militant stronghold.
Some reports say the target was an associate of the wanted militant, Noordin Mohammed Top. Indonesian police have not confirmed the raid. Two other suspects were arrested before the raid, including a suspected militant identified as Rohmat, police said. It is most likely that their aggressive interrogation led, eventually, to the raid and the shootout.
Noordin Mohammed Top is believed to be the leader of a group blamed for Jakarta Hotels Bombing that killed seven people in the capital, on 07/17/2009.
According to unconfirmed reports Noordin Mohammed Top himself was among the four killed militants.

 
.
* Related topics – 
–
04/2010 -SAEFUDIN ZUHRI SENTENCED TO 8 YEARS 
.
*********-N-***********
Read more ;
–