– PAKISTAN CHARGES MUMBAI SUSPECTS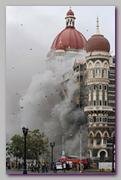 Pakistan has said, on Saturday 09/19/2009, it will charge seven suspects it is holding in connection with last year's Mumbai Carnage, which killed nearly 170 people.
Rehman Malik, Pakistan's interior minister, also called on India to share more of its intelligence in order to ensure Islamabad could bring those who perpetrated the attacks to justice (see – INDIAN-Request).
"The court wants authentic documents and we have requested this dossier – dossier number five – which includes all the requests, particularly that information which we need from India," he said.
India has said it has provided four dossiers to Islamabad containing information on suspects and the logistics of the attacks. It can be assumed that so called 'dossier number five' contains sensitive intelligence materials and India, therefore, is reluctant to share its intelligence sources with its adversary – Pakistan (see – Mumbai-Evidence).  
Pakistan has held close-door pretrial hearings at a maximum security prison in Rawalpindi for only five suspects who have not yet been charged. Their next hearing is set for 09/26/2009.
Malik also indicated that Pakistan was formally investigating Hafiz Muhammad Saeed, a founder of Lashkar-e-Toiba, the group India has said was behind the Mumbai attacks. Hafiz Muhammad Saeed now heads Jumaat-ud-Dawa, an alleged banned by Pakistan after the UN declared it a front for Lashkar.
"He has been included in the investigation," Malik said, in the first apparent confirmation that he was being probed in connection to the Mumbai attacks.
Malik said that Pakistan had turned over a list of requests for additional evidence from India, especially forensic support and information about Hafiz Muhammad Saeed although no doubt that Pakistan already has a thick dossier about Saeed.
The Pakistani move follows comments by SM Krishna, the Indian foreign minister, that the attack on India's financial capital would be the focus of his forthcoming meeting with Shah Mehmood Qureshi, his Pakistani counterpart, at the UN General Assembly in New York.
The meeting between Qureshi and Krishna, on 09/26/2009, will be preceded by talks between their foreign secretaries, or most senior diplomats.
Police in the Pakistani city of Faisalabad have lodged two complaints against Hafiz Muhammad Saeed for delivering a speech to his supporters last month in which he urged jihad and appealed for funds for his Jamaat-ud-Dawa .
India insists it will resume talks to normalise ties only after Pakistan brings to justice the alleged perpetrators of the Mumbai Carnage. 
.
* Related topics –
– 
12/2011 -9 CHARGED IN INDIA OVER 11/2008 MUMBAI CARNAGE 
12/2008 -MUMBAI CARNAGE INVESTIGATION REPORT
.
************-N-************
Read more ;
–