– ZAWAHIRI PREDICTING THE DONWNFALL OF OBAMA
 –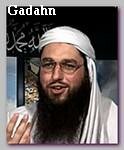 Al Qaeda released a 106-minute Arabic language video footage, on Tuesday 09/22/2009, titled "The West… and The Dark Tunnel" featuring Al Qaeda's acting leader Ayman Al Zawahiri predicting the downfall of Barack Obama.
During the documentary-style video to mark the ninth anniversary of The 9/11, Al Qaeda leaders comment on events in the past year such as the USA presidential elections, the global financial meltdown, and the latest on jihadist movements around the world.
"America has come in a new, hypocritical face. Smiling at us, but stabbing us with the same dagger that Bush used… God willing, your end will be at the hands of the Muslim nation, so that the world and history will be free of your crimes and lies" said Zawahiri addressing Obama at the end of the two-part video.
In addition to Zawahiri, other Al Qaeda leaders speaking in the video include Mustafa Abu al-Yazid, Attiya Allah, Mohammad Hassan al-Liby, also known as Abu Yahya al-Libi, and Adam Yahiye Gadahn.
As in the past, Al Qaeda attempted to conflate Obama with his predecessor, George W. Bush, who was widely disliked by Muslims for his invasions of Afghanistan and Iraq.
Many analysts believe that Al Qaeda has been alarmed by Obama's comparative popularity in the Middle East, especially following his landmark speech to the Muslim world in Cairo in June.
Gadahn's remarks celebrating the defeat of Bush and ridiculing Obama suggest the video was made in late 08/2009 or early 09/2009.
The message included a lengthy section on USA prisons and torture facilities and showed footage of what appeared to be an American torturing an Afghan for information by dunking his head into a bucket of water.
The SITE Intelligence Group, which monitors extremist Web sites, identified the person conducting the torture as Jonathan Keith Idema, who also appeared in last year's Al Qaeda video.
The video's strident anti-American tone and detailed enumeration of what it describes as the USA crimes was in sharp contrast to the earlier bin Laden message, which appeared to be an appeal to the American people to sever their ties with Israel and end the war with Al Qaeda (see – Laden 09.13.09 ).
.
* Related topics –  
–
08/2009 -ZAWAHIRI -ISRAEL [EXISTANCE] CRIME AGAINST MUSLIMS
.
*************-N-**************
Read more ;
–