– ZAWAHIRI NEW CALL FOR JIHAD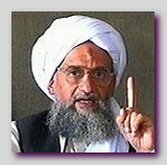 Al Qaeda's acting leader Ayman Al Zawahiri called on Pakistanis to support jihadists in the country's tribal areas (FATA), on Friday 08/28/2009, saying it was "the" battle against the American "crusaders," USA-based SITE Intelligence group reported (see also – Audio 07.14.09).
Ayman Al Zawahri's comments were delivered in a video called "Path of Doom" posted on jihadist websites and monitored by SITE, a private group that follows jihadist activities on the Internet.
"The war in the tribal areas and Swat is an inseparable part of the Crusaders' assault on the Muslims the length and breadth of the Islamic world," Zawahiri was quoted as saying.
"This is the battle, briefly and plainly; and this is why anyone who supports the Americans and Pakistan Army—under any pretext, ploy or lie—is in fact standing with, backing and supporting the Crusaders against Islam and Muslims," he said.
He argued that the USA military was using the Pakistani army as its proxy in the tribal areas and Swat District as a means to defeat the insurgency in neighboring Afghanistan.
. 
* Related topics – 
–
08/2009 -ZAWAHIRI, ISRAEL [EXISTANCE] CRIME AGAINST MUSLIMS    
06/2009 -BIN LADEN LASHS OUT ON OBAMA  
.
**********N***********
Read more ;
–