– SHABAZZ SULEMAN & HISHAM FOLKARD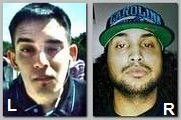 Reports that UK jihadists were involved in a prisoner swap between Islamic State I.S.I.S and Turkey are "credible", Whitehall officials have told reporters 10/06/2014 .
The Times alleged that Shabazz Suleman (L), 18, and Hisham Folkard (R), 26, were among as many as 180 ISIS fighters traded for 46 Turkish hostages. The newspaper alleges the list also includes three French citizens, two Swedes, two Macedonians, one Swiss and one Belgian.
The Turks were taken prisoner from their country's consulate in Mosul, Iraq, in 06/2014 and released last month.
Officials confirmed Shabazz Suleman, a student at the Royal Grammar School in High Wycombe, had disappeared in Turkey. According to the Royal Grammar School Shabazz Suleman had worked hard to build on his AS grades to achieve a "solid set" of A-levels and had gained a place at university. The statement also said Shabazz Suleman had travelled to Syria as part of an aid convoy for a Turkish last summer (2014)
The father of Hisham Folkard is described as a devout Roman Catholic. He told reporters he hardly knew either of his two sons as their mother "took them away". He said she had let them go to Yemen to study Islam and at that point he "cut them off completely".
"We are aware that a British national was reported missing in Turkey in 2014," a Witehall spokesman said.
Related topics :
01/2014 – MRAN KHAWAJA SENTENCED TO 9 YEARS
09/2014 -TWO ARRESTED IN DOVER OVER TERROR
06/2013 – WOOLWICH BEHEADING
03/2012 – MOMBASA PLOT – SAMANTHA LEWTHWAITE
************************
Read more ;