– CANADIAN PARLIAMENT SHOOTING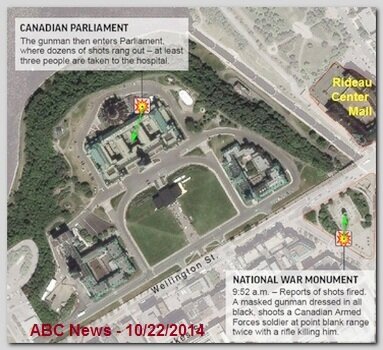 Two days after Canadian Convert Martin Couture-Rouleau  smashed his car into two soldiers in Quebec,  on Wednesday 10/22/2014 afternoon, a gunman identified later as Michael Zehaf-Bibeau,  was  gunned down by 58-year-old Sgt. at Arms Kevin Vickers before anyone else could be killed.  inside  Canada's parliament building after going on a fatal shooting spree that began with the killing of a Canadian uniformed soldier, Cpl. Nathan Cirillo. in the nearby War Memorial Monument.  The prime minister of Canada, Stephen Harper, was rushed out from the Parliament during the shoutout.
Michael Zehaf-Bibeau was born in Quebec on 10/16/1982 as Michael Joseph Hall,  grew up in Laval, just north of Montreal, and is said to have attended private schools. The Canadian news channel CTV News named his mother as Susan Bibeau, the deputy chair of the immigration committee at the Immigration and Refugee Board of Canada. His father, Bulgasem Zehaf, is a Libyan national appears to have fought in Libya in 2011, according to the Globe and Mail. The couple divorced in 1999. Michael Zehaf-Bibeau may have been a dual Canadian-Libyan citizen.
Michael Zehaf-Bibeau turned from a student in a Catholic high-school to  a petty criminal. Court documents show that a man with the same name, who appears to be Michael Zehaf-Bibeau, had an extensive criminal record for petty crimes in Quebec and Vancouver in the early 2000s. Twelve of the 13 cases brought against him in Quebec resulted in convictions. Four of them were for drugs possession – three for marijuana and one for PCP, for which he received 60 days in prison.  His longest sentence was for robbery, possession of break-in tools, theft and conspiracy in 2003, for which he was sentenced to two years in jail and three years' probation.
Although his father was. most likely, a Muslim Michael Zehaf-Bibeau re-converted to Islam in 2010 or 2011 . One of his friends, David Bathurst, a fellow convert, said he met him at at the Masjid al-Salaam Mosque in Burnaby, British Columbia about three years ago.
Shortly before the shooting rampage Michael Zehaf-Bibeau had  applied for a passport, allegedly to travel to libya but security authorities in Canada learned from Zehaf-Bibeau's mother that he wanted to go to Syria to fight in Syria with radical Islamists like I.S.I.S and the request was delayed. According to Bob Paulson, commissioner at the Royal Canadian Mounted Police (RCMP)  the attack may have been in part motivated by the delay in his application.
On 10/02/2014 Michael Zehaf-Bibeau moved to Ottawa seeking a new passport and apparently claiming that he wanted to travel to Libya. He stayed a local shelter for some days before carrying out the Ottawa shootout. Police said he was fixated on a specific beige vehicle, which he bought a day before the attack. He also prepared a 55 seconds  video footage, just before the attack, in which he said Canada had become an enemy and his actions were "in retaliation" for the country's military involvement in Afghanistan and Iraq.
Read more : 
04/2013 – CANADA FOILED TRAIN BOMBING PLOT  
03/2011 – MOHAMED HERSI ARRESTED IN CANADA  
09/2008 – CANADA TERROR DETAINEES  
PROFILES – FARAH MOHAMMAD SHIRDON & SALMAN ASHRAFI   
————————-
Read more ; 
THEGUARDIAN  
REUTERS  
ABC-NEWS  
DAILYMAIL 
NATIONALPOST-BIBEAU-FOOTAGE