– DUTCH HOSTAGE FREED BY FRENCH COMMANDO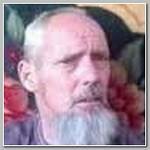 French commandos freed a Dutch hostage, Sjaak Rijke, from an al Qaeda-linked group AQIM in Mali in a pre-dawn raid on Monday 04/06/2015, more than three years after he was taken captive while on holiday with his wife, French and Dutch ( Holland ) officials said.
.Sjaak Rijke, a train conductor who was kidnapped in Timbuktu in 11/2011, His wife had escaped armed gunmen, who took three captives.
TheFrench forces killed two militants and captured two others in the operation, said Lieutenant Colonel Michel Sabatier, a spokesman for Barkhane, the French counter-insurgency operation in the region. "The liberation of Mr Rijke underscores France's staunch determination to fight armed terrorist groups in the Sahel region as part of the Barkhane operation," the French ministry said in a statement.
Lazarevic, held captive in the Sahara for three years, was released the following month in exchange for four Islamist militants with ties to al-Qaeda in North Africa.
France intervened against al-Qaeda-linked militants in its former colony of Mali in 01/2013 (see – Mali Campaign ). It has since created Barkhane, a 3,000-strong force to track down Islamist militants across a band of the Sahara desert stretching across five countries from Chad in the east to Mauritania in the west.
Dutch troops have been deployed in Mali as part of security and peacekeeping missions under the aegis of the United Nations.
Related topics ;
09/2014 – ISIS THRIVES – JUND AL-KHILAFA  
07/2013 – THE BODY OF HOSTAGE PHILIPPE VERDON FOUND IN MALI 
02/2013 – 14 FOREIGNERS ABDUCTED BY ISLAMISTS IN THE SUB SAHARA 
07/2012 – TINBUKTU SUFI SHRINE DEMOLISHED BY JIHADISTS 
 *************************
Read more ;