– ISIS THRIVES – JUND AL-KHILAFA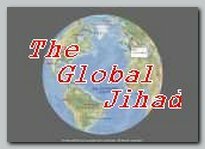 In a communique released on Sunday 09/14/2014, a new armed group calling itself the "Soldiers of the Caliphate in Algeria" – "Jund Al-Khilafah" in Arabic, has split from Al Qaeda's North African – AQIM  and sworn loyalty to the new Islamic State – I.S.I.S, fighting in Syria and Iraq.
 A regional commander of MAGHREB al-Qaeda said he broke away from the group, accusing it of "deviating from the true path".
Gouri Abdelmalek
, nom de guerre Khaled
Abu Suleimane
, claimed leadership of the 'Jund Al-Khilafah', was joined by an AQIM commander of an eastern region in Algeria.
"You have in the Islamic Maghreb men if you order them they will obey you," Abu Suleimane said in reference to Abu Bakr al-Baghdadi, the self-professed "Caliph" of I.S.I.S.
The "Soldiers of the Caliphate in Algeria" is the latest group to break with AQIM and side with Baghdadi, after veteran Algerian jihadist, Mukhtar Bilmukhtar's group, "Those who sign in Blood" pledged allegiance to the IS group. But experts say the announcement will not have a major operational impact on the ground as AQIM has been focused on the Sahel region rather than OPEC member Algeria.
AQIM is a mostly Algerian and Mauritanian group that has been present in northern Mali since 2003, and a source of thousands of young fighters travelling to Syria and Iraq.
 Tuaregs and Arabs joined AQIM in Mali, and youths from Senegal, Niger, and other countries have also reportedly joined the group's fight (see – Mali Campaign).
The major concern is that the two heads of Global Jihad – Al Qaeda and I.S.I.S will compete each other by committing spectacular high profile terror attacks.

———————————— 
 * NOTE! – Another group with the same name – Jund Al Khilafah-  operated in Pakistan, Afghanistan and Kazakhstan in 2010-12. their leader, the Tunisian Moezeddine Garsallaoui, was killed by an UAV missiles attack, near Miranshah in North Waziristan, FATA region of Pakistan, on 10/15/2012. 
 * Related topics:
 09/2014 – AL QAEDA ANNOUNCED NEW INDIAN BRANCH
07/2013 -THE BODY OF HOSTAGE PHILIPPE VERDON FOUND IN MALI
02/2013 – 14 FOREIGNERS ABDUCTED BY ISLAMISTS IN THE SUB SAHARA
01/2013 – IN AMENAS RAID  
********************************
 Read more ;