– EUROPE HAS LONG IGNORED DANGERS OF ISLAMIC TERROR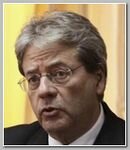 Military action is inevitable in the fight against terrorism and more should be done to tackle religious persecution, Italy's foreign minister Paolo Gentiloni said.
In an unusually strongly worded interview with Italian newspaper Corriere della Sera on Tuesday 07/04/2015, Paolo Gentiloni said Europe has long ignored dangers faced by people in other parts of the world and must do more.
"Responding to terrorism inevitably implies military consequences. This may shock some people but these groups must also be dealt with on a military footing. I won't use the word 'combat' to avoid being painted as a crusader," Gentiloni said.
He noted that Italian forces are committed to training local armed forces in Somalia that fight against the al Qaeda-linked al-Shabab militants who singled out Christians in a shooting on Thursday at Garissa University in Kenya that killed nearly 150 people.
I.S.I.S – The Islamic State's incursion into North Africa (Maghreb) has alarmed Italy, whose southernmost island is separated from Tunisia by a 70-mile stretch of the Mediterranean.
Violence in Libya has swelled the numbers of illegal migrants coming to Italy by boat. The turmoil in the region that they are fleeing was brought home in March by an attack on the Bardo Museum in Tunis in which four Italians were killed.
Gentiloni has previously pledged that Italy would fight in Libya as part of an international mission and said on Tuesday 07/04/2015 the government may consider also contributing in the future to tackling militant groups such as Boko Haram in Nigeria.
The fact that these groups are targeting Christians brings the need to help even closer to home, Gentiloni said, "because it concerns our identity and our roots".
"For years Europe has had a bad habit, a mix of selfishness and cowardice that prompts it to turn its gaze elsewhere when it comes to what happens beyond our little old world," he said.
He said it was important within Italy, which houses the Vatican papal state, to protect Christian sites and minority religious communities, such as Jews, which could become targets.
Related topics ;
06/2013 – JIHADISTS THREATEN EUROPE WITH FLYING MODELS   
11/2011 – EUROPEAN CULTURAL ISLAMIC CONFLICT 
09/2010 – ANTI-EUROPEAN TERROR PLOT UNCOVERED
09/2010 – RADICAL ISLAM THE GREATEST THREAT 
11/2009 – NETWORK DISMANTLED IN EUROPE 
 **************************
Read more ;
TODAYONLINE
MAGAZINEDONNA