– CAUCASIAN MILITANT ALIASKHAB KEBEKOV KILLED
Russian authorities and militant websites said, on 04/20/2015,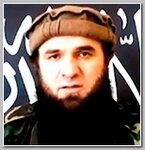 , the leader of the Caucasus Emirate insurgent group, has been killed in Dagestan.
The Russian  National Antiterrorism Committee (NAK) said  that Aliaskhab Kebekov was one of three militants found dead after an armed confrontation between security forces and gunmen on the outskirts of Buinaksk, a city southwest of Dagestan's capital, Makhachkala.
Two websites associated with Islamic militants in Russia's North Caucasus — kavkazcenter.com and jamaatshariat.com — confirmed that  Aliaskhab Kebekov and two other men "became martyrs" in the town of Gerei-Avlak.
Aliaskhab Kebekov, 43, also known as Amir (Commander)  Ali Abu-Muhammad, was a Dagestani theologian who was chosen last year to succeed Doku Umarov as leader of the Caucasus Emirate, the main insurgent group in Russia's mostly Muslim North Caucasus.
The USA  State Department designated Aliaskhab Kebekov as a terrorist  just recently, in March 2015, subjecting him to sanctions.
Canada, Russia, the United Kingdom, the United Nations, the United States, and the United Arab Emirates have designated the Caucasus Emirate as a terrorist organization.
Related topics : 
12/2013 – RUSSIA VOLGOGRAD SUICIDE BOMBING KILLED 17 
05/2013 – FEMALE SUICIDE BOMBER IN DAGESTAN INJURED 18  
09/2012 – 13 KILLED IN DAGESTAN TWIN SUICIDE BOMBING 
09/2012 – BOILING CAUCASUS
****************************
Read more ;  
RFERL.ORG
TURLISHWEEKLY