– SUICIDE BOMBER KILLED 12 IN PAKISTAN
–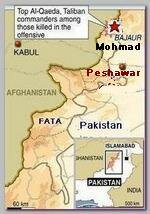 A suspected suicide bomber has killed at least 12 people in an attack on a checkpoint in FATA – North-West Pakistan, on Saturday 01/30/2010, officials said.
A number of people were also injured when the bomber attacked the checkpoint in Khar, the main town in the troubled Bajaur tribal region. Pakistani security forces have been battling militants in the Khar area. Government officials said on Friday that at least 24 suspected militants had been killed in the fighting.
"It looks like a suicide attack," regional police official Fazl-e-Rabi told Reuters news agency after the checkpoint attack. He added that at least seven of the dead appeared to have been passersby.
Initial reports suggested the attacker was in a vehicle. A local official later told AFP news agency the bomber had been wearing a suicide belt.
The army mounted a major offensive against Taliban militants in Bajaur in 08/2008, ending in a truce early last year (see – Bajaur 08.10.08 ).
Close to the Afghan border, Bajaur has long been suspected of being the hiding-place of Osama Bin Laden, Ayman Al Zawahiri and other top Al Qaeda leaders.
Earlier, on late Friday 01/29/2010, at least 9 people have been killed in a suspected US UAV drone attack in Northwestern Pakistan, intelligence officials said. Missiles hit a compound alleged to be used by Tehrik-e-Taleban – TTP fighters in Muhammad Khel, a town in North Waziristan.
.
* Related topics – 
–
01/2010 -NATO CONVOY ATTACKED IN KARACHI 
01/2010 -TALIBAN EXECUTED 6 FOR SPYING TO U.S
.
***************************
–