– ITALY UNCOVERED A SARDINIAN TERROR RING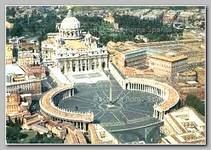 A militant ring inspired by Al Qaeda  was found to be operating in Sardinia, and there had been possible plans to target the Vatican already in 2010, according to investigators on Friday 04/24/2015. Police issued 20 warrants and made nine arrests in raids on Friday.
those nine arrested came from Pakistan and Afghanistan and the operation was ongoing. Some of the suspects, including two purported bodyguards of Osama Bin Laden,  are believed to have organised the 2009 market bombing in Peshawar in Pakistan. Local media said. More than 100 people were killed when a huge car bomb ripped through a busy market in Peshawar, Pakistan, in 10/2009.
Prosecutor Mauro Mura told a press conference in Cagliari, Sardinia, that wiretaps indicated the suspected terrorists had been planning a bomb attack at the Vatican in March 2010. There had been "signals of some preparation for a possible attack", including the arrival of a suicide bomber in Rome, the Associated Press quoted Mr Mura as saying.
Police conducted raids across Italy on Friday, targeting 18 people suspected of links with al-Qaida. Some were arrested, including the group's suspected spiritual leader, but others were believed to have left Italy  . Sardinian daily L'Unione Sarda reported that one of the suspects ran a construction business in Olbia.
The suspects were accused of staging attacks against the government in Pakistan.
** I.S.I.S pledged times and again to reach and to raise the flags of Islam over St. Petrus Square (The Vatican )
Related topics ;
04/2015 – EUROPE HAS LONG IGNORED DANGERS OF ISLAMIC TERROR 
07/2014 – ITALY TO EXPEL IMAM FOR CALLING TO KILL JEWS 
06/2013 – ANAS EL ABBOUDI ARRESTED OVER TERROR IN ITALY 
12/2010 – EXPLOSIVE DEVICE FOUND IN ROME SUBWAY
*****************************
Read more ;