– ARIZONA – THE NEXT 'MUHAMMAD CARTOONS' ROW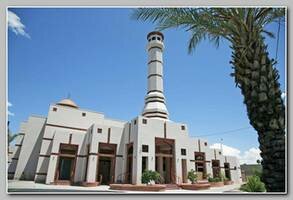 A group of potentially armed bikers. led by Jon Ritzheimer, an Iraqi war veteran,  is planning to hold a Prophet Muhammad cartoon-drawing contest Friday 05/29/2015 outside an Islamic community center in North Phoenix Mosque – Arizona. The Mosque from where one of the two Garland Freedom Conference shooters, Elton Simpson, came. Both gunmen were killed following a brief exchange of fire.
Organizers say the rally is in response to the Garland Shooting earlier this month in which two gunmen opened fire on a similar contest in Texas where cartoonists were drawing pictures of Islam's Prophet and its aim is "to expose true color of Islam" according to Jon Ritzheimer.
One police officer was wounded. One of the gunmen frequently worshiped at the north Phoenix mosque were Friday's rally is being held.
Organizer Jon Ritzheimer, an ex-Marine said the rally will be peaceful, but urged protesters to bring weapons in case of an attack. "People are also encouraged to utilize there (sic) second amendment right at this event just incase (sic) our first amendment comes under the much anticipated attack," it said.
Ritzheimer has invited thousands of bikers to attend the rally. As of early Friday, over 600 people had RSVP'd on the event's Facebook page. Local police have promised a heavy presence in case of violence.
Meanwhile, in Washington, the board in charge of the city's subway system voted to stop showing issue-oriented ads on trains and buses.
The organizer of the Texas contest where cartoonists were drawing pictures of the Prophet Muhammad was pushing to have the winning entry displayed in Metro stations and on buses around the Washington D.C. region .
Usama Shami, the president of the mosque, responded to the event in 24news Channel and said "Everybody has a right to be a bigot, Everybody has a right to be a racist. Everybody has a right to be an idiot" .
Eventually, under heavy police presence, the supporters from the two rallies converged near the mosque Friday evening – numbered as about 200 combined, as police was standing between the two groups. No violence incidents were reported.
Related topics : 
01/2015 – PARIS TERROR RAMPAGE – CHARLIE HEBDO  
09/2012 – INNOCENCE OF MUSLIMS 
09/2012 – MORE MOHAMMAD CARTOONS PUBLISHED IN SPAIN  
08/2011 – JIHADI FORUM THREATS DAVID LETTERMAN  
2008 – FITNA MOVIE
******************************
Read more ; 
VOANEWS 
DALLASNEWS 
WASHINGTONTIMES 
CROOKSANDLIARS
24NEWS
NBCNEWS