– ISIS THREAT SPREADS ALL OVER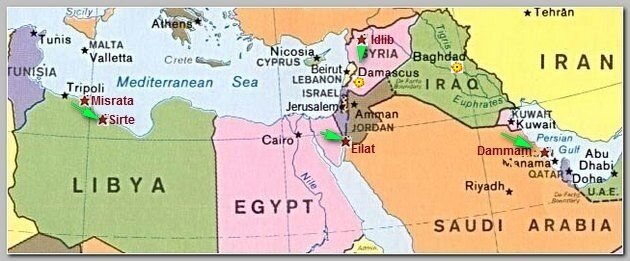 * Libya – Islamic State militants in Libya said, on Friday 05/29/2015 evening, they have seized the airport in the coastal city of Sirte, as the group continues to make advances in the country. Most of Sirte, former leader Muammar Gaddafi's hometown, fell to I.S.I.S .Few days earlier, on 05/27/2015, ISIS seized the key Libyan oil town on the Mediterranean. Misrata, and took a South Korean couple as hostages. .
* Saudi Arabia – Four people were killed when a car exploded near a Shia Mosque in Saudi Arabia's Eastern city of Dammam, on Friday 05/29/2015, the Saudi Press Agency reported, adding that militants failed in their bid to hit the mosque after security officials foiled the attack. I.S.I.S claimed responsibility. The suicide bomber was identified, on 06/03/2015, as Khaled al-Wahbi al-Shemari .
* Egypt – Ansar Bait al-Maqdas , The Sinai Province of ISIS threatened. on Thursday 05/28/2015, to target The Southern Israeli port of Eilat "in the coming days" as part of an operation against Hamas in Gaza Strip, accused by ISIS with collaboration with Israel.
* Interpol – A growing number of extremist groups from Africa to southeast Asia are shifting their allegiance to the Islamic State group, leading to greater risks for "cross-pollination" among conflicts beyond Syria and Iraq, the head of Interpol, Juergen Stock, said on Friday 05/29/2015.
Juergen Stock cited this shift as an emerging trend at a U.N. Security Council meeting along with changing travel methods being used by foreign fighters seeking to join groups like the Islamic State and Al Qaeda, .
——————–
* Syria – Meanwhile in Syria The 'Jaish al-Fateh, or 'Conquest Army', led by Jabhat al-Nusra, drove the Syrian Army out of its last stronghold in the Northern Idlib Province, on the Turkish border. Ariha. The pressure on the Alawite province of Latakia, on the Mediterranean, on Damascus and the connection between them is mounting every day.
Related topics ;
05/2015 – ISLAMIC STATE OVERSHADOWS THE MIDDLE EAST
04/2015 – MORE MASS BEHEADING OF CHRISTIANS IN LIBYA
03/2015 – OPERATION 'DECISIVE STORM'
09/2014 – U.S/NATO STRATEGY AGAINST ISIS
********************
Read more ;
ALARABIYA
BBC NEWS A
JERUSALEM POST
MORE ALARABIYA
BBC NEWS B
WRAL.COM