– 2 CHARGED IN US WITH PROVIDING SUPPORT TO TERROR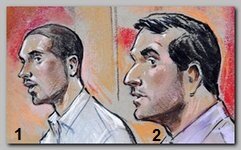 A computer engineer Wesam El-Hanafi (1) and an accountant Sabirhan Hasanoff (2), both with New York roots, have been charged, on Friday 04/30/2010, with providing Al Qaeda technical advice and other support, officials said. 
Wesam El-Hanafi, the 33-year-old computer engineer, and Sabirhan Hasanoff, 34, the accountant, were brought from Dubai, United Arab Emirates – UAE, to Alexandria, Va., where a federal magistrate judge ordered both be detained Friday. 
Wesam El-Hanafi, an American citizen who was born in Brooklyn, and Sabirhan Hasanoff, a dual citizen of the United States and Australia, were to be transferred to Manhattan for further proceedings, the USA attorney's office in New York said. 
"Wesam El-Hanafi and Sabirhan Hasanoff conspired to modernize Al Qaeda by providing computer systems expertise and other goods and services," Preet Bharara, USA. Attorney for the Southern District of New York, said in a statement. 
Prosecutors allege in Wesam El-Hanafi traveled to Yemen in 2008 and "swore an oath of allegiance to Al Qaeda, received instructions on operational security measures and assignments to perform for Al Qaeda." He later carried out assignments, the indictment said, without specifying what assignments (see -Al-Qaeda in the Arabian Peninsula ).
In 06/2008, the indictment says, Wesam El-Hanafi directed an unnamed co-conspirator (later identified as Khalid Ouazzani)"to perform various tasks for Al Qaeda." The document does not specify which tasks.
In April 2009, Wesam El-Hanafi bought seven Casio digital watches over the Internet "on behalf of Al Qaeda" and had then shipped to his Brooklyn home, the indictment said. Watches have been used to make  mprovised explosive devices.  
The indictment said Sabirhan Hasanoff received $50,000 from the co-conspirator in 2007 and traveled to New York and performed unspecified assignments for Al Qaeda. 
Both suspects attended New York public schools and Baruch College in New York, the New York Daily News said. Wesam El-Hanafi had worked for Lehman Bros., Sabirhan Hasanoff for PricewaterhouseCoopers. 
They were each charged with one count of conspiracy to provide material support to a foreign terrorist organization. Both face as much as 15 years in prison if convicted (see also – 2009-Record ).
** Wassem El-Hanafi was sentenced, on 01/20/2015, to 15 years imprisonment.
* Related topics –

***************************