– THE BALKAN ROUTE -LONDON'S JIHADISTS

In late 05/2015 it was revealed that a British I.S.I.S fighter, Fatlum Shalaku, 20, a body builder and former student who used the name Abu Musa al-Britani, had been one of six suicide bombers who blew himself up during the offensive to seize the Iraqi oil city of Ramadi, two weeks ago..
His older brother Flamur Shalaku, 26,  is also said to have been killed fighting on the frontline. Their family came originally from Kosovo.
Officials in Belgrade point to routes passing through Turkey, Bulgaria, Serbia and Bosnia and those from Turkey, Greece, Albania, Kosovo and Serbia as being so-called 'gateways' used by the jihadists.
Bosnia last year passed a law that bans citizens from fighting in foreign countries, which enabled police and intelligence agencies over the past two months to arrest more than a dozen alleged radical Islamists believed to have fought abroad, or to be recruiting others.
Flamur Shalaku is the fifth former pupil from the London's Holland Park School to have died in jihad, according to The Sunday Times, following the death of his brother and of Mohamed Nasser, 21, who reportedly died during fighting last year (2014). Mohamed el-Araj, 23, from Ladbroke Grove, reportedly died in 2013, and Nassim Terrri, 25, was killed on a mountainside in March 2012.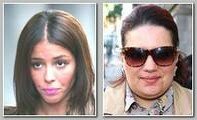 In 2014 two more former Holland Park School pupils were arrested under terror laws and accused of funding jihadi fighters in Syria. Nawal Msaad (L), 27, who had been caught trying to smuggle €20,000 (£15,800) in her underwear on a flight to Turkey, was cleared of the charge, but Amal El-Wahabi (R), who had allegedly asked Msaad to be her "trusted courier for the money," was convicted at the Old Bailey.
————
12/02//2014 the Student David Souaan, 20, was jailed at the Old Bailey after being arrested as he trie

d to return to Syria.  He has Serbian mother and Syrian father and studied in London. He
David Souaan comes from a wealthy Serbian family, posed with weapons on a previous trip to Syria and was found guilty of planning to fight with rebels there.  Anti-terror police discovered that the undergraduate at London's Birkbeck College was a close supporter of hate cleric Anjem Choudary.
Souaan was stopped at Heathrow by police as he was about to board a flight to Serbia with his mother on 05/31/2014.
—————
The number of detected illegal entries in the Western Balkans region soared by 65% in 2014 – to 66,000 from 40,000 the year before (2013) , according to Frontex the EU's Border agency.
That in addition to hundreds thousands who enter Europe via Libya and Italy through the Mediterranean and  with few hundreds or thousands of ISIS supporters assimilated in the huge flow of immigrants, most of them Muslims, from Africa and Middle Eastern countries to Europe .
Related topics :
04/2015 – ANIS ABID SARDAR – A BRITISH BOMBER IN IRAQ  
04/2015 – TURKEY HELD BRITISH FAMILY HEADING TO ISIS  
03/2015 – JAKE BILARDI BLEW HIMSELF IN RAMADI. IRAQ  
09/2014 – WESTERN JIHADISTS 
2009 – LONDONISTAN
**************************
Read more ;  
DAILYMAIL-1  
INDIPENDENT  
DAILYMAIL-2
THE SUNDAY TIMES