– TERROR SUSPECT USAAMA RAHIM KILLED BY FBI IN BOSTON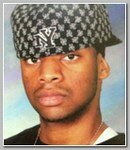 knife-wielding Usaama Rahim, 26, from Roslindale, Boston whose family is well known among Muslims and African-Americans in Boston and jhis brother is a suspected Imama in the city. killed by the terror investigators who had him under surveillance was confronted because he had bought knives and talked of an imminent attack on "boys in blue," the FBI said, on Wednesday 06/03/2015.
Usaama Rahim plotted for at least a week to attack police, the FBI said in a complaint against a family member who was arrested Tuesday, the day Rahim was shot to death. On Wednesday, the relative, David Wright, 24, was ordered held on a charge of conspiracy with intent to obstruct a federal investigation.
The FBI saidUsaama Rahim, who had previously discussed beheadings, bought three fighting knives and a sharpener on or before May 26 and he told Wright on Tuesday he would begin trying to randomly kill police officers.
An anti-terror task force of FBI agents and Boston police, faced with an imminent threat, confronted Rahim on a sidewalk and fatally shot him when he refused to drop his knife, authorities said.
An affidavit written by an FBI agent assigned to Boston's Joint Terrorism Task Force refers to a recorded conversation between Usaama Rahim and David Wright in which Wright made a comparison to "thinking with your head on your chest." The FBI said that was a reference to Islamic State propaganda videos showing severed heads on the chests of beheading victims.
The FBI affidavit said Usaama Rahim initially told Wright about a plan to behead someone outside Massachusetts.
On Sunday 05/31/2015, Usaama Rahim, Wright and an unidentified man met on a beach in Rhode Island to "discuss their plans," the FBI affidavit said.
Related topic ;
05/2015 – ARIZONA – THE NEXT 'MUHAMMAD CARTOONS' ROW
04/2015 – 2 SHOT DEAD OUTSIDE TEXAS'S GARLAND 'FREEDOM' CONFERENCE
04/2015 – NOELLE VELENTZAS & ASIA SIDDIQUI
04/2015 – WOULD BE BOMBER JOHN T. BOOKER DETAINED IN U.S
***********************
Read more ;