– 10 TUNISIAN STAFF SEIZED IN TRIPOLI, LIBYA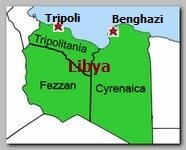 An armed group stormed, on Friday 06/12/2015,  the Tunisian consulate in the Libyan capital Tripoli and kidnapped 10 staff, the Tunisian Foreign Ministry said.
Tunisia is one of only a few countries which still has a mission in Tripoli, a city which is controlled by a group that has set up its own government, a rival to Libya's internationally recognized leaders.
In 05/2015, Tunisian authorities arrested Walid Kalib, a member of the Libya Dawn Islamist group, which is now in control of Tripoli. Libya Dawn, a loose alliance of former rebel brigades and Islamist-leaning groups, seized power in Tripoli last summer, expelling the internationally recognized government to the east.
Earlier this week, a Tunisian court refused to release Walid Kalib, who faces kidnapping charges in Tunisia.
–
* Also on Friday, 7 people were killed and 30 injured during an anti-IS protest in the Eastern Libyan city of Derna.  According to the locals, the demonstrators marched towards the jihadist base after Friday prayers, and the gunmen opened fire at the crowd. 
*
* Eight Tunisian citizens working in Libya's capital Tripoli have been kidnapped, according to Tunisian state radio, citing a local official, on Sunday.06/14/2015.
Related topics ;
04/2015 – 5 LIBYAN REPORTERS SLAUGHTERED BY ISIS  
03/2015 – TUNISIAN MILITANT AHMED ROUISSI KILLED IN LIBYA 
10/2013 – LIBYAN ANARCHI – PM SEIZED BY ARMED GANG   
11/2011 – SAIF AL-ISLAM GADDAFI CAPTURED  
———————–
Read more ; 
ALARABIYA  
AL-JAZEERA  
RT.COM
ALARABIYA-B