– TUNISIAN MILITANT AHMED ROUISSI KILLED IN LIBYA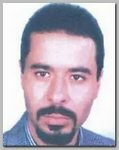 One of Tunisia's most wanted men, a senior commander of I.S.I.S militants in Libya, Ahmed Rouissi,, has been killed fighting with Libyan forces near the city of Sirte, Tunisian security sources said on Tuesday 03/17/2015. The death of Ahmed Rouissi confirms the growing importance of foreign fighters in the Libyan conflict, where two rival governments and armed forces battle for control. About 9,000 Tunisian went abroad to fight in all the battlefields of Jihad, mainly in Syria and Iraq.
Libya is in chaos with two rival governments – one internationally recognized, the other set up in Tripoli after its forces took over the capital – that are fighting for control four years after a civil war ousted Muammar Qaddafi  ( see – .LIbyan Civil- War ).
Ahmed Rouissi was a top member of Tunisia's Ansar al-Sharia, extremist group branded as terrorists by Washington.
Tunisian officials believe he was the mastermind in the murders of two Tunisian opposition leaders in 2013 that plunged the country into crisis. He later joined ISIS in Libya and had been running training and recruitment operations with other foreign fighters there, according to the Tunisian security source.
Tunisia also said on Tuesday it had dismantled a recruiting cell sending militants to fight in Libya and arrested dozens in part of tighter security and border controls to counter Islamist militants.
"Security officers and the army arrested ten terrorists trying to sneak into Libya to join the armed groups in Libya," the Interior Ministry said in a statement. The communique said security forces also dismantled four terrorist cells that were recruiting for Libya and arrested 22 more suspects in those operations.
Related topics :
 02/2015 – ISLAMIC COUP FOILED IN TUNISIA  
02/2015 – EGYPT RESPONDED TO THE BEHEADING OF 21 COPTS IN LIBYA  
10/2013 – LIBYAN ANARCHI – PM SEIZED BY ARMED GANG  
03/2010 – THOUSANDS RALLY FOR "SHARIAA LAW" IN TUNISIA  
**********************
Read more ;