– KICKBOXING CHAMPION VALDET GASHI JOINED ISIS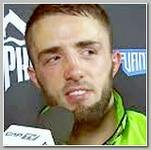 * Valdet Gashi, a 29-year-old German of Albanian descent, kickboxer and two-time Muay Thai world champion has joined ISIS and left for Syria to fight for the Islamists, Swiss media reported on 06/13/2015..Valdet Gashi   was born in Pristina, Kosovo, but was raised in Germany. He is married with two children and lived in the German state of Bavaria, Southern Germany. The investigations have found that Valdet Gashi lived with his family in Singen, Baden-Wurttemberg, used to attend the An'Nur Mosque along with the other three jihadi fighters from Germany who have joined the Islamic State.
According to the Swiss SRF (Schweizer Radio und Fernsehen) program Rundschau,Valdet Gashi joined I.S.I.S in early 01/2015. He  had travelled to Syria with three other Thai boxers colleagues Sandro, Visar and Hajan.but he had been concealing his whereabouts for several months, so that his family believed he was in Thailand.
SRF journalists managed to reach him via telephone in mid-May. During a 90-minute telephone conversation, Valdet Gashi reportedly told journalists that he had a deep and profound understanding of the ISIS ideology and had gotten used to ISIS's ideas by now.
"I want to do something good and to die while doing it. That is what would make me happy," he said. He also asked his friends and family not to denounce his decision as "they did not know the whole story,"he Switzerland's 20 Minuten news. Valdet Gashi appears to be located in the city of Membij near the Turkish border, where he is currently patrolling the Euphrates.
Related topics ;
06/2015 – THE BALKAN ROUTE -LONDON'S JIHADISTS
02/2015 – GERMAN TERROR ARRESTS
09/2014 – WESTERN JIHADISTS
02/2011 – AL-NUR MOSQUE, BERLIN
PROFILE – GERMAN DENIS MAMADOU CUSPERT – ABU MALEEQ  
—————————–
Read more :