– 11 MILITANTS KILLED IN LAMU, KENYA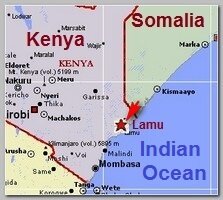 11 Somali al-Shabab militants and 2 Kenyan soldiers were killed when fighters attacked, in a pre-dawn raid, a military base on Kenya's northern coast near to the Somali border, on Sunday 06/14/2015, a local official and a military spokesman said.
The militants carried out the early morning raid on the military base near the town of Baure in Lamu County, said Lamu's deputy county commissioner, Joseph Rotich.
Militants also stormed Mangai village where they forced men out of their houses and took them to a local Mosque where they led prayers for an hour before they disappeared.
"The militants tried to force entry into the camp and that's when the battle ensued," David Obonyo, a Kenyan military spokesman said, adding that Kenyan forces were searching for militants who were believed to have fled into a nearby forest.
Obonyo said the military had seized weapons including 13 AK-47 rifles, five rocket-propelled grenades and eight grenades.
Al Shabaab confirmed the attack in a statement and claimed its militants had "killed many Kenyan soldiers." Al Shabaab often cites higher death tolls or casualty figures than numbers given by officials.
Kenya is preparing to mark the anniversary of two attacks in the town of Mpeketoni, also in Lamu County, in which militants killed at least 60 people a year ago.
Although Mpeketoni is inland from Kenya's Indian Ocean coastline, the attacks froze the tourism industry in Lamu, which had been popular with tourists from Europe and North America.
Al Shabaab, which seeks to overthrow the Western-backed Somali government and impose its strict interpretation of Islamic law, has frequently targeted neighbouring Kenya in recent years, saying it is retaliating for Kenya's participation in an African Union peacekeeping force in Somalia.
In April, al Shabaab militants raided a university in the northern Kenyan city of Garissa, killing nearly 150 students, and in September 2013 militants killed at least 67 people in an attack on Nairobi's upmarket Westgate mall.
One of the al-Shabab militants killed in the raid was identified as British convert Thomas Evans.
Related topics ;
04/2015 – KENYA'S GARISSA UNIVERSITY ATTACKED BY AL-SHABAB
PROFILE – MOHAMED KUNO
09/2013 – WESTGATE INVESTIGATION
11/2011 – ALMADOW OPERATION
**************************
Read more ;