– MULTIPLE BOMB ATTACKS IN YEMEN'S CAPITAL SANAA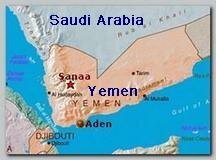 Amide so called 'peace talks' in Geneva, on Wednesday 06/17/2015, the political headquarters of the Houthi militias and three Mosques were targeted in a series of bomb blasts in the Yemeni capital Sanaa, killing 31 and wounding dozens,
Additionally, the house of Saleh al-Samad, the head of the Houthi office, was targeted by a car bomb, The blasts came as Saudi-led forces conducted more air strikes against Houthi military sites across Yemen and as delegates attending peace talks in Switzerland reported no progress on the second day of a U.N.-sponsored push for a Ramadan truce.
———–
Also on Wednesday 06/17/2015 Al Qaeda militants in Yemen killed two alleged Saudi spies, named al-Mutairi and al-Khaledi, residents said, accusing them of planting tracking devices which enabled the assassination of the group's leader, Nasser al-Wuhayshi (l),  in a suspected U.S. UAV drone strike last week.
Residents said al Qaeda charged the men with planting chips which pinpointed the location of several al Qaeda commanders slain in recent months, including its boss Nasser al-Wuhayshi, whose death along with two other militants the group announced on Tuesday.
Images posted on social media by al Qaeda supporters showed armed militants on a beach carrying banners surrounding two blindfolded men kneeling on the sand.
Later on Wednesday, residents reported that a suspected U.S. drone bombed a Mukalla hotel used by al Qaeda militants, killing 6 people. The events suggest a sort of intelligence cooperation between Saudi Arabia and the USA .
Related topics :
–
04/2015 – YEMEN'S CHAOS   
03/2015 – YET ANOTHER SHIA-SUNNI WAR – YEMEN   
03/2015 – YEMEN'S RIFT – 135 WERE KILLED IN 2 SUICIDE BOMBINGS IN SANAA  
05/2012 – SANAA SUICIDE BOMBING KILLED 96 YEMENI TROOPS 
*********************
Read more ;