– 5 INJURED IN AQABA, JORDAN FROM ROCKETS BARRAGE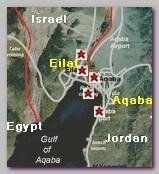 Projectiles suspected to have been fired, on Monday 08/02/2010 at about 07:30, from Sinai Peninsula; 2 fall in Red Sea, 2 in Jordan, 1 near Eilat, Israel; IDF in contact with Jordanian, Egyptian armies; source of attack unclear. 
 Five
Iranian made
rockets landed in the area around Eilat Monday morning, one of which injured four people in nearby town of Aqaba, Jordan, in front of the Intercontinental Hotel. One of the casualties was in serious condition and
died later in Aqaba Hospital.
the other three were lightly wounded.

A second rocket also landed on the Jordanian side of the border, a third north of Eilat's Hotel area, and two more in the Red Sea. The projectiles were thought to be Grad-type Katyushas launched from the Sinai Peninsula. The same type of Iranian made rocket was fired toward the Israeli town of Ashkelon. North of Gaza Strip on the Mediterranean, just 3 days ago, on Friday 07/30/2010 morning (see – Ashkelon 07.30.10).
A possible group behind the rockets could have been Hamas, which is known to use Sinai to smuggle weaponry and operatives in and out of the Gaza Strip (see – Jaljalat). There are also known to be Global Jihad elements in the Sinai who have the capability to fire rockets toward Eilat.
Rocket attacks in Eilat are rare but not unheard of, with two attacks having occurred in the last five years. On 04/22/2010, 2 similar rockets landed in Eilat and the adjacent Jordanian port of Aqaba (see – Aqaba 04.22.10).

In 2005 a rocket fired from Jordan landed next to the Eilat airport and two others missed a US Navy vessel docked at the nearby Jordanian port of Aqaba. No one was reported hurt. A group linked with Al Qaeda claimed responsibility for the attack (see – AQABA ROCKETS ATTACK).
In January 2007, a deadly attack by a Palestinian suicide bomber in Eilat killed three men working at a bakery. Both Islamic Jihad and al-Aqsa Martyrs claimed responsibility for the attack.
It is almost certain that Islamic extremist try to disrupt any prospect of direct peace talks between the Palestinian Authority, headed by Mahmoud Abbas, and Israel scheduled to begin in the next future amide growing pressure from USA on both sides to do so (see Zawahiri's threat – – Audio 07.19.10).
* Egypt blamed, on Wednesday 8/04/2010 morning, the Red Sea attacks on Gaza-based militants, who had apparently sneaked into the Egyptian Sinai peninsula, although Hamas denied responsibility.
Israeli PM Benjamin Netanyahu said in a statement, on Wednesday 08/04/2010 evening, that Israel has "strong evidence" that Hamas in Gaza was behind the rocket barrage as well as the previous attack on 04/22/2010. "I want to make it clear to Hamas, and also to the government of Lebanon, which we see as responsible for the violent provocation against our soldiers, do not test our resolve to defend Israel's civilians and soldiers," he said.  
* Related topics – 
02/2010 -HAMAS STUDENTS CELL ARRESTED IN ISRAEL

 
***************************
 Read more ;