– DOZENS KILLED IN CHINA'S XINJIANG TERROR ATTACK.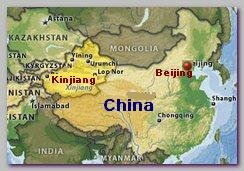 Ethnic Uighurs in Xinjiang North-Eastern province of China  attacked, on Monday  06/22/2015,  police with knives and bombs at a traffic checkpoint and at least 18 people were killed., Radio Free Asia reported on Wednesday, and at least 18 people were killed.
The attack occurred at the beginning of the Muslim fasting Month of Ramadan on Monday in the southern city of Kashgar, where tensions between Muslim Uighurs that call the region home and the majority Han Chinese have led to bloodshed in recent years. Hundreds have been killed in violence across the region, blamed by Beijing on Islamist militants.
Chinese Armed police responded to the attack and killed 15 suspects "designated as terrorists", according to Radio Free Asia. It said in all between 18 and 28 people were killed, including several bystanders, but that police estimates of the toll varied.
China's Communist Party says it protects freedom of religion. But it maintains a grip on religious activities and allows only officially recognized institutions to operate.
China has around 20 million Muslims, only a portion of whom are Uighur.
Related topics ;
08/2011 -SECURITY MEASURES IN XINJIANG, CHINA  
08/2010 – 7 KILLED IN NORTHWEST CHINA TERROR ATTACK 
08/2008 – 16 CHINESE POLICEMEN KILLED IN XINJIANG 
2008 – EAST TURKISTAN ISLAMIC PARTY – ETIP
**********************
Read more ;