TWIN BLASTS KILLED 60 IN BASRA
TWIN BLASTS KILLED 60 IN BASRA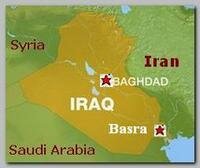 At least 60 people have been killed, on Saturday 08/07/2010 night, and more than 100 injured as at least two blasts rocked a market in the southern Iraqi city of Basra.
Initial reports said that a car bomb, followed by a secondary explosion, hit the busy al-Ashaar marketplace in Basra city on Saturday. But police officials insisted the the blasts were caused by a power generator exploding (see also – Basra test case).
"The explosion was caused by an electricity generator short-circuiting," Colonel Karim al-Zaidi, a spokesman for Basra's police command, said.
Other security officials said that the cause of the explosion was not known.
"We're investigating the cause. We don't know whether it was a terrorist attack or something else," said Ali al-Maliki, the head of the security committee in the Basra council.
"They are not responding to the people of Basra. We want the police of Basra to be responsible for security in Basra and we have constantly been repeating this request" he added
Private communal generators are common in Iraq, where demand for electricity dramatically outstrips supply, forcing the use of unpopular power rationing.
Electricity shortages triggered protests across the country over the summer, including in Basra, that eventually led to the resignation in June of the electricity minister. Basra is a Shiaa predominated town. 
Eventually the police confirmed that the explosions were a terror attack.  
Another 32 people were killed in Ramadi, centeral Iraq, on Sunday 08/08/2010, when a car bomb exploded outside a restaurant in the center of the town.
* Related topics –
**********************************