– YET ANOTHER COORDIMATED ATTACK IN BAGHDAD
–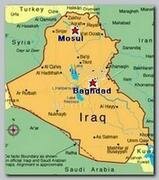 At least 16 people have been killed in shootings and explosions in the Iraqi capital, Baghdad, on Thursday 07/29/20101, officials say (see also – Radwaniya 07.18.10).
Reports said three soldiers were shot in the mainly Sunni district of Adhamiya in the north of the city. As security forces went to the scene, bombs exploded in the same area, killing at least 13 more people in a co-ordinated attack, the reports say. At least six of those killed in the blasts were said to be members of the security forces. Reports say at least 14 people have been wounded.
The interior ministry said the bodies of the three soldiers shot dead had been set alight after the attack. The ministry added that the attacks all took place within 15 minutes.
A military vehicle was burning at the scene of one of the blasts and two police vehicles had also been damaged, the Aswat al-Iraq news agency quoted officials as saying.
Iraq is on high alert for militant attacks following elections in March which produced no clear winner and created political uncertainty in the country (see -ETHNIC IRAQ). 
–
* Related topics –  
–
07/2010 –

ALLEGED AL QAEDA LEADERS ARRESTED IN IRAQ

  
07/2010 –

ABOUT 40 SHIAA PILGRIMS KILLED IN BAGHDAD
.
**************************
Read more