SHARP RAISE IN CIVILIAN CASUALTIES IN AFGHANISTAN
SHARP RAISE IN CIVILIAN CASUALTIES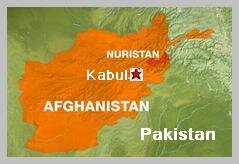 A new UN report, ON Tuesday 08/10/2010, revealed that The number of civilians killed or injured in Afghanistan, in the first six months of 2010, has jumped 31%, despite a fall in the number of casualties caused by NATO-ISAF forces.
More than 1,250 civilians were killed in the first six months of 2010 and another 1,997 civilians were injured, the latest UN six-monthly report shows. The Taliban and other insurgents were responsible for 76% of the casualties, up from 53% last year. Only 12% of the civilian casualties were attributed directly  to USA, NATO and other pro-government forces (see – nangarhar 04.29.10).
Also on Tuesday two suicide bombers have targeted, on Tuesday 08/10/2010, a guesthouse in the Afghan capital, Kabul, killing two staff members, police and interior ministry officials said.
A firelight broke out when guards challenged the attackers as they tried to enter the hostel, in the central Taimani area, police added. One attacker blew himself up and the other was shot dead. Two drivers employed by the guesthouse also died. Despite its ring of steel, Kabul has been attacked several times this year.
Two security guards were injured in Tuesday's assault, the interior ministry said (see – Kabul 02.26.10).
* Related topics –





07/2010 -ABOUT 50 CIVILIANS POSSIBLY KILLED BY NATO










02/2010 -12 CIVILIANS KILLED IN AFGHANISTAN

 
**************************