IRAQI SOLDIERS LURED TO THEIR DEATH – 8 KILLED
IRAQI SOLDIERS LURED TO THEIR DEATH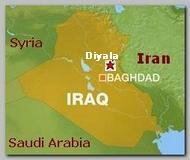 A bomb exploded, on Wednesday 08/11/2010 at about 05:00, in a house in central Diyala province, in the town of Saadiyah, 100km northeast of Baghdad, being raided for gunmen by the Iraqi military, killing eight soldiers (see also – Diyala 06.06.10).
Gunmen lured the soldiers into a booby-trapped house in Diyala province following clashes at a security checkpoint, Captain
Mohanned Ibrahim
, an army officer, told the AFP news agency.
"After clashes that lasted about 15 minutes (at a security checkpoint), the gunmen fled, and the army chased them in order to arrest them…The gunmen entered one of the houses close to the checkpoint, and the army followed them. The house then collapsed because of a bomb. The gunmen escaped through a back door" Captain Mohanned Ibrahim described the event.

Three other bodies were found under the rubble, but it was not immediately clear if they were of gunmen or civilians, he added.A police source said the soldiers had entered the house acting on a tip that hostages from kidnappings were held inside. Officials were not immediately available with more details.

Overall, violence in Iraq has ebbed since the peak of sectarian warfare four years ago but bombings and other attacks occur frequently (see – US-IRAQ Dispute ).

Tensions have been steadily rising since a March 7 parliamentary election produced no clear winner (see -IRAQ'S RESULTS).
* Related topics –
*********************************
Read more