BBC News
– ABOUT 150 KILLED IN BOKO-HARAM'S RAMADAN OFFENSIV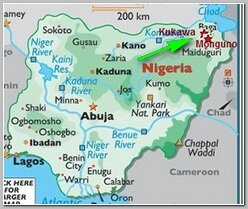 Despite the Nigerian Army success in Sambisa Forest two months ago suspected Boko Haram militants in a northeastern Nigerian villages Monguno and Kukawa, in Borno State  killed at least 150  people, witnesses told AFP Thursday 07/02/2015.
A local man from Kukawa village, who gave his name as Kolo, told AFP, "the attackers have killed at least 97 people," while a fisherman who also witnessed Wednesday's attack corroborated the figure.
Boko Haram has carried out a series of attacks in Nigeria in recent years, including one in which the militant group kidnapped 276 female students on the night April 14, 2014. Many of the girls are still missing.
At least 23 people died in the town last month in Nigeria after a confiscated Boko Haram bomb exploded during celebrations to mark the successful military operation against the Islamist group.
Related topics :
06/2015 – NIGERIAN LED FORCE TO FIGHT BOKO HARAM TO BE SET UP   
09/2013 – ABOUT 50 STUDENTS BUTCHERED BY JIHADISTS IN NIGERIA
 2013 – THE MALI CANPAIGN 
04/2010 – THE MAGHREB ALLIANCE  
**********************
Read more ;