– LONDON TEEN GIRL CHARGED WITH TERROR
–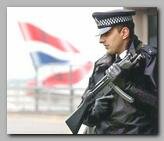 A 16-year-old girl has appeared, on Wednesday 07/22/2015, in a London court charged with possessing an "Anarchy Cookbook" and a recipe for explosives in a case linked to the alleged ANZAC Day plot to commit a terror attack at an Anzac Day event in Melbourne. She appeared in the Westminster Magistrates Court with her uncle in a glass booth.
The teen girl was charged by counter-terrorism police after a warrant was executed at a house in Manchester on 04/03/2015.
The two charges are that she possessed a document containing information of a kind likely to be of use to a person preparing or committing an act of terrorism, namely a recipe for explosives and the "Anarchy Cookbook".
Police were led to the girl after investigating a teenage boy from Blackburn in Lancashire, who was held on 04/02/2015 in connection with a terrorist plot in Australia, after examination of a number of electronic devices.
British counter-terrorism officers said they had uncovered communications between the UK and Australia representing a "credible terrorist threat".
Police in Melbourne arrested five suspects in what they said was an operation to foil an Islamic State-inspired plot to attack an Anzac Day event and carry out a beheading.
On Wednesday District Judge Riddle ordered the girl to appear in the Manchester Youth Court on -7/29/2015 and granted her bail on conditions she observe a 9pm to 7am curfew, report to police three times a week and not leave England or Wales.
The 15-year-old boy from Blackburn has appeared at the Old Bailey in London charged with inciting a terror attack in Melbourne. His four-week trial is scheduled to begin on 08/17/2015 in Manchester.
Related topics ;
07/2015 – 2 CHARGED WITH PLANNING TERROR IN U.K
07/2015 – U.K MEASURES TO STOP FLOW OF MILITANTS TO MEAS"T
07/2015 – YET ANOTHER BRITISH FAMILY 0F 12 JOINED ISIS
07/2015 – TEEN ARRESTED IN LONDON OVER ISLAMIC TERROR
06/2015 – 3 BRADFORD SISTERS & 9 CHILDREN HEADING TO JOIN ISIS

——————————-
Read more ;