– TURKEY ALLOWS U.S TO USE INCIRLIK AIR BASE AGAINST ISIS
–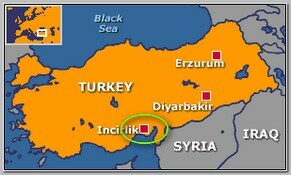 Turkey has agreed, on Thursday 07/23/2015, to allow USA planes to launch air strikes against Islamic State  fighters from the airbase at Incirlik, close to the Syrian border, US defence officials said.
The decision was a day after a telephone call between President Barack Obama and Turkish President Tayyip Erdogan, and follows long-time reluctance by Ankara to become engaged in the fight against the Islamic State and was not a member of the anti-I.S.I.S  coalition formed by USA in 09/2015 on the ground that the coalition is indirectly and unintentionally supporting Bashar Assad's Syrian regime by bombing its main fighting force .
Furthermore Turkish planes, on Friday 07/24/2015, have for the first time carried out air strikes against Islamic State (IS) group targets in Syria, which is a major shift in Turkish policy toward Syria, ISIS and Iraq.
Also on Friday 07/24/2015 .U.S. Defense Secretary Ashton  Carter arrived on an unannounced visit y to Erbil, capital of Iraq's Kurdistan region, whose forces, known as "Peshmerga", have emerged as one of America's strongest and most effective partners in the fight against Islamic State, to discuss regular Kurdish requests for direct arms and equipment supply and not through the Iraqi Army, which proves  itself as extremely inefficient.  The Pentagon has said it is examining Kurdish requests, including for mine-resistant vehicles. The  visit by itself and the direct negotiations are a step toward Kurdish sovereignty  legitimacy and a nightmare to Turkey that fears  that 10 millions Kurds in Eastern Turkey will seek to form a united Kurdish state stretches  on parts of Iraq, Syria and all Eastern Turkey.  Furthermore the Kurds may replace Turkey as a trusted ally in the war against ISIS.
–
.A. – Turkey is obsessed with the removal of Bashar Assad from power in Syria and refused, so far, to join any operations against any opposition in Syria.
.B. – Turkey is the gateway for over 25,000 thousands foreign Muslim volunteers, over 6,000 of them from Europe, to join islamic organizations in Syria.
.C. –Turkey was the broker and the distributer of ISIS oil. pumped in Iraq, to the world market and transferred many millions $  to the organisation, described by many as the richest ever in the history of terror.
.D. – Turkey, alongside Saudi Arabia and Qatar, are the powers behind the Al Qaeda affiliated Jabhat al-Nusra and its recent achievements in the battlefields in northern and western  Syria.
So Turkey will, most likely, to continue with its "Double Face" diplomacy .
Indeed on the second day of bombings Turkey warplanes expended their mission and bombed   military positions of Turkey's Kurdistan Workers Party (PKK) in neighbouring Iraq, a spokesman for the PKK has said.
Read More ; 
07/2015 – TURKISH DOUBLE PLAY 
07/2015 – 32 KILLED IN THE TURKISH BORDER TOWN SURUC
07/2015 – TURKEY DISMANTLED ISIS RECRUITING NETWORK
06/2015 – THE JIHADI JUNCTIONS TO EUROPE
09/2011 – TURKISH OBSESSION  
06/2010 – IS TURKEY AN ALLY ? 
———————
Read more ; 
BBC NEWS 
AL-JAZEERA 
ALARABIYA
AL-JAZEERA-B