– 32 KILLED IN THE TURKISH BORDER TOWN SURUC
–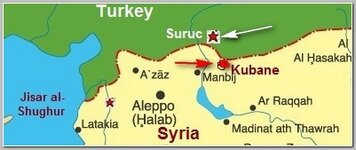 An explosion hit a cultural centre in the southeastern Turkey town of Suruc near the Syrian border on Monday 07/20/2015 at about 12:00  killing at least 27 people,  according to Reuters news agency. Nearly 100 people were injured and treated in hospitals in the region, it said. Eventually the number of fatalities mounted to 32 people .
The blast took place in the garden of a culture centre in Suruc — which lies opposite the Syrian town of Kobane, the private NTV television reported, during a Kurdish meeting about the reconstruction of Kubane and was committed by a suicide bomber according to local reports.
It was not immediately clear what caused the blast in the town, some 10 km (6.2 miles) from the Syrian border town of Kobane. a day earlier the Turkish authorities arrested over 500 refugees, probably from the Kurdish town of Hasaka where bitter fightings take place,  who were trying to cross the border with Syria into Turkey  over the weekend.Turkey has la volatile 911-kilometer (566 mile) border with Syria.
The district governor of Suruc, Abdullah Ciftci, said:"The fact that it is a suicide attack increases the possibility that IS is responsible. We think the attacker was a woman. Preliminary findings show that she was acting on her own," he told BBC .
—
** Turkey strongly opposes any sign of Kurdish self management,, self  ruling and any sign of Kurdish sovereignty.
Turkey's Kurdistan Workers' Party (PKK), the main Kurdish opposition group in Turkey.  has claimed, on Wednesday 07/22/2015.  responsibility for the killing of 2 Turkish police officers, saying they were cooperating with I.S.I.S, who killed over 30 people in a bomb attack in Suruc. "A punitive action was carried out… in revenge for the massacre in Suruc," the military wing of the outlawed PKK, the People's Defence Forces (HPG), said in a statement on its website.
Related topics ;
07/2015 – TURKEY DISMANTLED ISIS RECRUITING NETWORK  
06/2015 – THE JIHADI JUNCTIONS TO EUROPE
02/2013 – SUICIDE BOMBER ATTACKED U.S EMBASSY IN ANKARA
09/2011 – TURKISH OBSESSION
06/2010 – IS TURKEY AN ALLY ?    
———————
Read more ;  
ALARABIYA  
ISRAELNATIONALNEWS  
ALBAWABA
BBC NEWS
NORE IN ALBAWABA