– MOHAMMED YUSAF SHAH [SAYED SALAHUDDIN]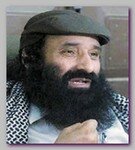 Sayed  Salahuddin was born on 02/18/1946 in Budgam, inthe Indian state of Jammu & Kashmir under the name Mohammed Yusaf Shah.   
Mohammed Yusaf Shah initially became interested in studying Medicine, but later on decided to become a civil sevant. While studying Political Science at  Kashmir University. In the mid 60s' he started to become influenced by the Jammat-e-Islami (The Islamic Association), and become a member of its branch in the Kashmir Valley. Soon he got reputation in the University of persuading Muslim women to veil themselves and also took part in processions in support of Pakistan. After University, he decided not to join the civil service, but instead he became an Islamic preacher at a  Madrassa. Mohammed Yusaf Shah is married with 7 sons, all with University degrees and professional education and live in India.
In 1987, Mohammed Yusaf Shah decided to contest an election on the ticket of the Muslim United Front, a coalition of Muslim political parties in Srinagar's Amirakadal Constituency. He came second and won the seat despite allegations of rigging and bogus polling. Mohammed Yusaf Shah was arrested and put in jail for agitation against rigging by National Conference with the help of Central Government. This angered Kashmiri Muslims and anti-India sentiments started growing in Kashmir Valley.
After his release in 1989, Mohammed Yusaf Shah was allegedly threatened by National Conference Workers of dire consequences. This convinced him that armed struggle was the only solution to the Kashmiri problem. Mohammed Yusaf Shah then formed an armed militant organization with the help of Shams-ul-Haq, Maqbool Illahi, Abdullah Bangro, Majeed Daar and others, called the Hizbul Mujahideen (Party of the wholly warriors). He adopted the nom de guerre "Sayed  Salahuddin", named after Salahaddin, the 12th century Kurdish Muslim political and military leader, who fought in the Crusaders in nowadays Syria, Israel, Jordan and the Palestinian Authority known as the Sham (see in the context -Jund al-Sham).
Sayed  Salahuddin
crossed the border to Pakistan (line of control) many times to conduct operations in Kashmir valley against the Indian Army. Since 1995, he has been living in Pakistan (see also – PK Two Heads). 
.
* Related topics – 
–
BLEEDING  KASHMIR  
.
************************
Read more ;
–