BBC News
– YET ANOTHER MOGADISHU HOTEL BOMBED
–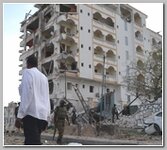 At least 10 people have been killed, on Sunday 07/26/2015 in a suicide car bombing at the gate of Jazeera Palace Hotell in Mogadishu, the Somali capital.
Gunfire were heard on Sunday near the Jazeera Palace Hotel, frequented by government officials and dignitaries and home to several embassies, soon after the blast.
The armed group al-Shabab, which frequently launches bomb and gun attacks against officials and others in Mogadishu in its bid to topple Somalia's government, quickly claimed responsibility.
"A suicide car bomb exploded at the gate of Jazeera Hotel," Major Nur Osoble, a police officer, told Reuters news agency.
al-Shabab said in a statement that its "Mujahideen fighters targeted and killed a member of the parliament and his guards", adding that it "will continue targeting" legislators.
Related topics ;
06/2015 – SOMALI AL-SHABAB TARGETED DIPLOMATIC CONVOY – 12 KILLED
05/2015 – 11 MILITANTS KILLED IN LAMU, KENYA
04/2015 – KENYA'S GARISSA UNIVERSITY ATTACKED BY AL-SHABAB
03/2015 – AL-SHABAB TOOK HOSTAGES IN MOGADISHU HOTEL
—————————
Read more ;