– INDIAN PUNJAB'S POLICE STATION IN GURDASPUR STORMED
–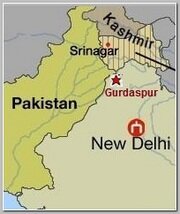 Indian security forces, on 07/27/2015, are battling gunmen who stormed a police station in Gurdaspur, northern Punjab state, close to the border with Pakistan.
The state-run All India Radio said four to five armed men had "fired upon a bus, injuring some passengers" at the bus station. Then they entered a police station.in Gurdaspur district, officials said. Bombs had been found on the railway tracks at the Dinanagar railway station, according to Indian media.  police were exchanging gunfire with the attackers who have occupied the police barracks. According to eyewitnesses the suspected terrorists were wearing Army uniforms.   Police believe that the attackers are from Indian-administered Kashmir.
Five people, including two policemen, have been killed and at least six wounded.
Security forces have been sent to the area as reinforcements. The dead include Punjab's Superintendent of Police .
Gurdaspur is one of Punjab's most populous districts, sandwiched between the state's two major rivers, Ravi and Beas, and sharing common boundaries with Indian-administered Kashmir and Pakistan.
After the siege on the police Station in Gurdaspur was brought to an end by security forces the number of casualties climbed to nine.  All three attackers were killed, along with six other people, including the Punjab state police superintendent Baljit Singh .
The attackers were armed with automatic weapons and dressed in military fatigues.
Related topics ;
09/2014 – AL QAEDA ANNOUNCED NEW INDIAN BRANCH
08/2013 – YASIN BHATKAL ARRESTED IN INDIA 
02/2013 – TWIN EXPLOSION KILLED 17 IN HYDERABAD, INDIA 
2010 – KARACHI PROJECT 
———————
Read more ; 
BBC NEWS 
ECONOMICTIMES 
BUSINESS-STANDARD