BBC News
– SUNBATHING BIKINI WOMAN BEATEN IN REIMS
–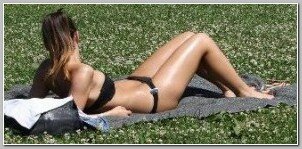 French social networks exploded with anger after a young woman, on Wednesday  07/22/2015, was reportedly beaten up by a gang of girls and young women for wearing a bikini in a park.
Although authorities have not identified the attackers but most commentators have assumed that they were Muslims.
The five attackers, aged 16 to 24, were quickly arrested and the three oldest have been remanded to appear in court in September, while two girls aged 16 and 17 face further questioning. The authorities said that they all came from housing estates with large Muslim populations.
It is not yet clear whether their unnamed 21-year-old victim was of French or north African origin. She was sunbathing with two friends in the Parc Léo Lagrange in Reims on Wednesday when one of the women verbally abused her for "immorally" exposing so much flesh in a public place. When she shouted back, the other girls and young women crowded around and slapped and punched her, police said. Passers-by intervened, and the victim was badly bruised rather than seriously hurt.
Far-right bloggers seized on the incident as an example of an alleged radical Islamic threat to French values.
Related topics ; 
07/2015 – 4 ARRESTED IN FRANCE OVER TERROR 
07/2015 – FFRENCH ABU-BAKR AL-FRANSI, 13, KILLED IN SYRIA
06/2015 – PROFILE YASSIN SALHI
04/2015 – SID AHMED GHLAM PLANNED ATTACKS ON CHURCHES 
——————————
Read more ;