– FAWAZ AL-ODAH & FAIZ AL-KANDARI
–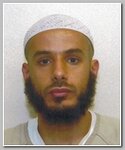 A Kuwaiti prisoner, Fawaz al-Odah, headed home from Guantanamo Bay on Wednesday 11/05/2014 morning, hours after the midterm election results put the U.S. Senate in the hands of Republican legislators who had vowed to stop the Obama Administration from closing the controversial detention facility.
Fawaz al-Odah, 37, is scheduled to arrive in Kuwait more than 13 years after he left his country to do alleged humanitarian work and teach the Koran in Afghanistan. The U.S. claimed to have evidence showing that Fawaz al-Odah had been associated with Al Qaeda and the Taliban, charges he always denied. He was cleared for transfer in 07/2014 following a Periodic Review Board (PRB) hearing.
In Kuwait, al-Odah will be kept under observation at a military hospital for about a week before being transferred to a rehabilitation center, where it is expected that he will undergo a one-year rehabilitation process, according to his father and will be monitored for an additional three years,
Fawaz al-Odah said he was arrested by Pakistani authorities on 11/18/2001, when he was trying to leave Afghanistan through the Tora Bora mountain area, after the U.S. military campaign Absolute Justice began. He arrived in Guantánamo on 02/13/2002, but had expected a brief stay. Fawaz all-Odah's release leaves 79 of Guantanamo's 148 prisoners currently cleared for transfer.
* Kuwaiti Faiz al-Kandari –
In total, 12 Kuwaitis have been held in Guantánamo. All but one, Fayiz al-Kandari, have been released. The USA has ordered Faiz al-Kandari's continued detention because the PRB, comprising officials from U.S. government agencies, believes he "almost certainly retains an extremist mindset and had close ties with high-level Al-Qaeda leaders in the past."
Before Tuesday's election, House Armed Services Committee Chairman Howard P. McKeon had called on Secretary of Defense Chuck Hagel to immediately suspend all transfers, citing claims – not supported by data from the Office of Director of National Intelligence – that former Guantánamo prisoners were fighting alongside the Islamic State in Iraq and the Levant ( ISIS ).
Related topics ;
11/2013 – EX-GUANTANAMO INMATE IS HELD IN ISRAEL
03/2010 – GUANTANAMO ROW
02/2010 – 4 GITMO DETAINEES TRANSFERRED TO EUROPE
01/2009 – GUANTANAMO – THE BEGINNING OF THE END 
—————————–
Read more ;
AL-JAZEERA 
EIKIPEDIA-KANDARI 
ANDYWORTHINGTON