BBC News
– CROATIAN HOSTAGE EXECUTED BY ISIS IN SINAI, EGYPT
Published
August 12, 2015
–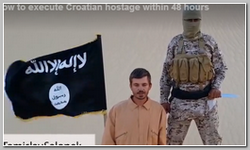 I.S.I.S claimed Wednesday 08/12/2015 to have beheaded a Croatian hostage abducted in Egypt, posting a purported picture of the victim's body on ISIS-affiliated Twitter accounts.
The Croat, Tomislav Salopek, was abducted last month 22 k"m west of the capital Cairo. The jihadists had issued a 48-hour deadline that ended last Friday threatening to kill him if Muslim women prisoners were not released from Egyptian jails.
The picture's authenticity could not be immediately verified.
Related topics :
–
08/2015 – 10 TALIBANS BLOWN UP BY ISIS  
07/2015 – DOZENS OF EGYPTIAN TROOPS KILLED IN TERROR RAMPAGE IN SINAI
06/2015 – MILITANTS IN EGYPT STEP UP THEIR ECONOMIC CAMPAIGN  
04/2015 – 69 IN EGYPT TO PRISON LIFETIME FOR CHURCH ARSON ATTACK
02/2009 – PIOTER STANCZAK BEHEADED BY THE TALIBAN
—————————
Read more ;