– 48 HOURS PARTIAL CEASEFIRE AGREED IN SYRIA
–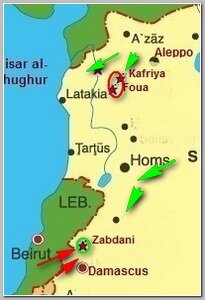 Forty-eight-hour ceasefires between Syrian rebels and pro-government forces have reportedly begun in three towns on 08/12/2015 at 06:00 local time. .
The truces will allow food and medical supplies to be delivered to the rebel stronghold of Zabadani, strategically important because the two dominates the main road between Damascus area, still controlled by pro-Assad forces and the Alawite enclave in North-Western Syria on the Mediterranean with the port towns of Latakia and Tartus, known as the Alawite Mountains.
For over a month the main battle about the future of Syria is raging in and around Zabadani, on the border with Lebanon in the mountainous Qalamun area . where over 1,500 Sunni militiamen, entrenched in the area managed repeatedly and with heavy coast to Hizbullah to repel the Hizbullah and Syrian Army forces.
On the other hand a coalition of Sunni rebels. comprised mainly by Jabhat al-Nusra and Ahrar al-Sham (the Liberators of greater Syria) put in siege the two Shiaa villages Foua and Kafriya in the north-west in Idlib province and threaten to totally destroy the villages and kill their inhabitants should the pro-Government forces advance more in Zabadani. The ceasefire was agreed agreed by Ahrar al-Sham and Lebanon's Hezbollah. Last month, the UN envoy for Syria said government barrel-bomb attacks on Zabadani had caused "unprecedented levels of destruction and many deaths among the civilian population".
Meanwhile, rebel fighters fired dozens of rockets at several central districts of the city, dozens of people have been killed in government reprisal air raids.
The UK-based monitoring group added that talks were continuing on evacuating rebel fighters from Zabadani and ending the sieges of the two government-held towns.
The rebels have driven government forces out of much of Idlib in the past six months, and are now advancing on the coastal province of Latakia, the heartland of the heterodox Shia Alawite sect to which the president and his family belongs.
On Tuesday, a military source confirmed that government troops had been forced to retreat and take up new defensive positions in the Sahl al-Ghab plain in eastern Latakia.
Iranian Foreign Minister Mohammad Javad Zarif arrived in Beirut on Tuesday 08/11/2014 to discuss issues including a "new plan" on resolving the crisis in Syria, a spokesman told the official Iranian news agency IRNA.
A day earlier, on Monday 08/10/2015 Russian-Saudi talks failed to reach an understanding about Syria
Turkey aur forces is striking in Syria alleged ISIS positions in the recent days but actually uses ISIS as an excuse to bomb the Kurds, the only efficient ground force to tackle the Islamic State.
Related topics :
08/2015 – THE CURRENT STAGE OF THE MIDDLE EAST
07/2015 – THE THREAT FROM SYRIA'S AL-SAFIRA COMPOUND
06/2015 – U.S LACKS FULL STRATEGY !?
06/2015 – CONFUSING MEETING IN PARIS
—————————
Read more ;