BBC News
– ANOTHER IRRELEVANT MESSAGE FROM AL QAEDA CHIEF
Published
August 14, 2015
–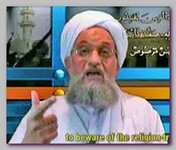 * Al Qaeda leader Ayman Al Zawahiri, has pledged  allegiance to the new Afghan Taliban chief in an audio message posted online, on 08/12/2015.
.The pledge to Mullah Akhtar Mansour was issued by al-Qaeda's media arm As-Sahab and was Zawahiri's first message since 09/2014. The position of Al Qaeda,  however, is contested by the Islamic State (ISIS)  
In the recording Zawahiri  said: "As Amir of al-Qaeda, I pledge to you our allegiance, following the path of Sheikh (Osama) bin Laden and his martyred brothers in their allegiance to Mullah Omar."
Al-Zawahiri's message – while impossible to independently verify – will be seen as significant.
Pledges of allegiance are key to a Taliban leader's legitimacy, as breaking an oath is viewed as a sin, But once it was that the Taliban and alike pledged allegiance s to Al Qaeda – now it is vice versa – Al Qaeda pledges allegiance to the Taliba. Secondly the massage has no influence and is irrelevant to the new stage of Global Jihad, le by I.S.I.S .  
Related topics ;
06/2015 – THE WANE OF AL QAEDA & THE RAISE OF THE ISLAMIC STATE
09/2014 – ISIS THRIVES – JUND AL-KHILAFA
09/2013 – ZAWAHIRI CALLS TO "BLEED AMERICA ECONOMICALLY"
06/2011 – AL-ZAWAHIRI ELECTED AS HEAD OF AL QAEDA 
05/2011 -LAST BIN LADE'S AUDIO RELEASED 
————————-
Read more ;