– TALIBAN'S NEW LEADER – MULLAH AKHTAR MANSOOR
–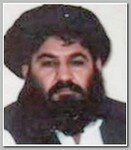 Although the Taliban denied their legendary leader Mullah Omar died already in 04/2013 the Taliban has elected Mullah Akhtar Mansoor as its new leader, Taliban sources have told various media channels on Thursday 07/30/2015. . The group, eventually, also confirmed the death of Mullah Omar. The Afghan government said on Wednesday that Omar died more than two years ago, in a hospital in Karachi i (see also – Mullah Omar's deputies ).
Following the announcement, a second round of peace talks between the Taliban and the Afghan government have been postponed.
"The council also elected Sirajuddin Haqqani, who is known as Khalifa, the chief of Haqqani as deputy of the Taliban's leader," the Taliban spohseman told reporters on the condition of anonymity.
Mullah Akhtar Mansoor was the likely successor along with Mullah Baradar Akhund of the deceased Taliban supreme leader. Earlier, it was speculated in the Taliban circle that Mansoor's position had been widely damaged for spreading news of Mullah Omar's death.
The nomination of Sirajuddin Haqqani as deputy of the Taliban leader will consolidate and coordinate the Haqqani network with the Taliban organisation -most likely mainly against the growing influence of the Islamic State ( ISIS ) in the region .
Indeed, on Monday 08/03/2015, the Pakistani Taliban – Tehrik-e-Taleban – released a video footage, through the web,  showing its support of Mullah Akhtar Mansoor, its new leader.  The Afghan government and the Taliban began, yet another peace talks last month.
.
Related topics ;
06/2015 – AFGHAN PARLIAMENT ATTACKED BY THE TALIBAN
06/2015 – ISIS BEHEADED 10 TALIBAN FIGHTERS
05/2015 – THE TALIBAN OFFENSIVE ON KUNDUZ , NORTHERN AFGHANISTAN
12/2011 – ENIGMATIC PEACE
11/2010 – TALIBAN IMPOSTOR DUPED AFGHAN OFFICIALS  
—————————–
Read more ;
AL-JAZEERA
TRIBUNE-PAKISTAN 
PAKISTANAKHUNDKHAFIZ
ALBAWABA