– ISLAMIST OPENED FIRE IN FRENCH HIGH-SPEED TRAIN
–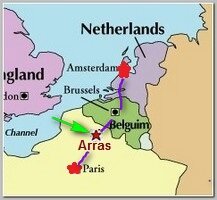 Three people have been hurt, on Friday 08/21/2015 evening, at 17:45 local time, after a heavily armed  26-year-old Moroccan opened fire in a high-speed train from Amsterdam, Holland to Paris, near Arras in northern France, before being overpowered by American passengers. The attacker was arrested at Arras station. The weapons were said to include a Kalashnikov, a knife, an automatic pistol and cartridges
French authorities said three people were injured, two of them seriously – one with a gunshot wound, the other a knife wound.
USA President Barack Obama praised the passengers, who included two off-duty US military personnel. "The president expressed his profound gratitude for the courage and quick thinking of several passengers, including US service members, who selflessly subdued the attacker," the White House said in a statement. "It is clear that their heroic actions may have prevented a far worse tragedy." it said.
French media said the arrested man was known to the intelligence services. The suspect has so far refused to talk to police in Arras.  Belgian Prime Minister Charles Michel called the incident a "terrorist attack".
French media said the passengers who overpowered the suspect were US Air Force servicemen who had heard the man loading a weapon in a toilet cubicle and confronted him when he came out.
French rail firm SNCF said there had been 554 people on board the train and several trains had been delayed in the wake of the attack.
The Moroccan shooter was identified as Ayoub el-Qahzzani .  
* Last week, a Belgian jihadist in Syria warned that the country faced attack. Abdellah Noumane, a man in his twenties from Antwerp who has been in Syria for two years, named "libraries, schools, hospitals, shopping centres and even nightclubs" as possible targets. "We no longer care about all the discussions regarding innocent victims. All infidels will be killed," he said in an audio recording. Whether this threat had any link to the events on the train is unknown.
Related topics ;
07/2015 -SUNBATHING BIKINI WOMAN BEATEN IN REIMS
07/2015 – 4 ARRESTED IN FRANCE OVER TERROR 
07/2015 – FFRENCH ABU-BAKR AL-FRANSI, 13, KILLED IN SYRIA
06/2015 – 16 ARRESTED IN BELGIUM OVER TERROR
06/2015 –  TERROR ATTACK IN GRENOBLE, FRANCE  
——————————
Read more ; 
BBC NEWS 
TELEGRAPH-U.K  
DAILYMAIL  
FIREANDREAMITCHELL