-TERROR ATTACK IN GRENOBLE, FRANCE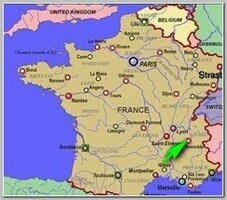 A bomb exploded in a factory in Grenoble, about 50 km South East to Lyon, France, on Friday 06/26/2015, at about 10:00 local time, killing at least one and wounding others. A body was found decapitated and an Islamist flag was found (see also – Lyon Cell ).
Reports said the attacker(s) burst multiple gas canisters. The factory belongs to a company called Air Products.
Interior Minister Bernard Cazeneuve said he was traveling to the scene. It was reported shortly after the incident that a man had been arrested and claimed he bore allegiance to the Islamic State terror group ,
** According to initial findings  a car was rammed into the factory morning causing a number of explosions that injured two people. Within hours a man was arrested who officials said had been investigated over possible ties to radical Islam. The assailant sent a selfie where he posed with the severed head of his boss, security sources say.
French media report the suspect was an employee of the decapitated man, identified as Herve Comara, 54,  who owned a local delivery company. His delivery firm made regular trips to the factory, which is owned by the US-based company Air Products, Dauphine Libere newspaper reports.
The arrested suspect was officials named as Yassin Salhi, 35, married with 3 children from Saint-Priest, a suburb of  Lyon. Yassin Salhi had been under surveillance by the secret services in 2006 for radicalisation but this investigation was not renewed in 2008. He had no police record," France's Interior Minister Bernard Cazeneuve said.
A fireman near the scene caught Salhi, according to Cazeneuve. Salhi was believed to be wounded and was taken into custody in an ambulance escorted by firefighters and police vehicles. Yassin Salhi's wife was also taken into custody by police.
A second suspect has been arrested at their home in Saint-Quentin-Fallavier, and is believed to be the driver of the vehicle used to make the attack at the gas company.
–
Related topics ; 
06/2015 – ORANGE EMPLOYEE PROVIDED DATA TO TERROR
04/2015 – SID AHMED GHLAM PLANNED ATTACKS ON CHURCHES IN PARIS 
05/2015 – ISIS HACKERS BREACHED INTO FRENCH TV5 NETWORK  
02/2015 – INCIDENTS IN FRANCE 
02/2015 – PARIS TERROR RAMPAGE – CHARLIE HEBDO  
—————————–
Read more ;  
YNET-NEWS 
INDEPENDENT
BBC NEWS
IBTIMES