– CARDIFF JIHADISTS
–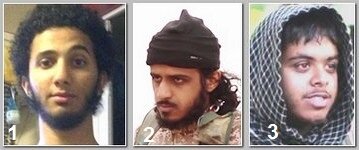 The Cardiff  Jihadists is a group of young British Muslims, born in UK and lived in Cardiff, Wales who joined the Islamic State in the years 2013-4
Cardiff-born Aseel Muthana (1), moved to Syria in 02/2014, at the age of 17, shoulder-to-shoulder with his brother  Nasser Muthana (2), 21.  Aseel Muthana was allegedly a senior member of a notorious predominantly Muslim gang who carry knives and guns,  Aseel Muthana boarded a flight to Cyprus from Gatwick, in February 2014, following his older brother already in Syria since 11/2013.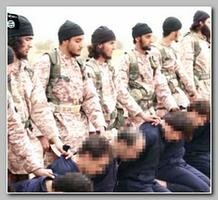 Nasser Muthana, despite being offered the opportunity to study medicine by four universities. thought to be part of an Islamic State 'foreign legion' of at least 16 jihadis who were filmed beheading Syrian soldiers in the desert, in mid 11/2014, a year after he arrived to Syria,
Muthana family  moved to the UK from Yemen in the seventies and earned a living repairing televisions,
A third Cardiff born Jihadist is Reyaad Khan, appeared in a recruitment video aimed at luring jihadists to Syria and Iraq. He was killed by a British UAV  missiles attack near Raqqa, Syria, on 08/21/2015, 
Reyaad Khan  was a straight-A student from the Riverside area of Cardiff. After becoming radicalised, Reyaad Khan travelled to Syria in 11/2013. Before he fled to Syria, Reyaad Khan was a politically active and promising teenager. In 2009 he was said to have been excited to meet the future shadow chancellor Ed Balls, and in a Facebook post he said he wanted to become the country's first Asian prime minister, after sitting on a local youth forum.
He featured in a prominent Islamic State propaganda video last year alongside his friend Nasser Muthana, and Abdul Raqib Amin, born in 1988, from Bangladeshi descent, also known as Ruhul Amin, who is understood to have studied in Aberdeen. Ruhul Amin was also killed in the drone strike with Reyaad Khan.
Along with Reyaad Khan and Muthana Brothers, Amin's assets were frozen within weeks of the video being released. The asset-freezing order gives his nom de guerreas Abu Bara' al Hindi.
* The Cardiff Mosque imam, Ibrahim Alwawi, rejected the idea that the IS fighter could have been radicalised at his Mosque.
———————
** The Cardiff Jihadists were supported and encouraged by a local British  cell of three; Forhad Rahman, 21, of Cirencester, Gloucestershire, who lived was living in south west London at the time (2013) a charismatic figure with profound influence, especially on Assel Muthana,  is alleged to have paid for a replacement passport and a coach ticket, which allowed Mr Muthana to leave Britain.  Kristen Arne Brekke (L), 19, a convert of Cardiff, who worked with Aseel Muthana at a Cardiff ice cream shop, allegedly bought combat clothing, performed computer searches and stored items for him and  Adeel Ulhaq (R), 20, of Sutton-in-Ashfield, Nottinghamshire, gave Mr Muthana advice in online discussions, providing "a great deal of knowledge" about the Syrian conflict and about useful contacts, the prosecutor said.
He also stands accused of sending money to Turkey to fund terrorism, in a separate charge.
The three were were arrested in 12/2014,  accused with supporting and facilitating terror in and faced court in 06/2015.   
.
Related topics ;
–
08/2015 – JUNAID HUSSAIN, BEHIND TERROR ALERT IN U.K, KILLED
07/2015 – YET ANOTHER BRITISH FAMILY 0F 12 JOINED ISIS
07/2015 – TEEN ARRESTED IN LONDON OVER ISLAMIC TERROR
06/2015 – 3 BRADFORD SISTERS & 9 CHILDREN HEADING TO JOIN ISIS  
06/2015 – BRITISH SUICIDE BOMBER TALHA ASMAL  
.
—————————————–
Read more ;
–
DAILYMAIL
THEGUARDIAN
MIRROR-U.K
BBC NEWS