– 7 PHILIPPINO TROOPS KILLED IN CLASHE WITH ABU SAYYAF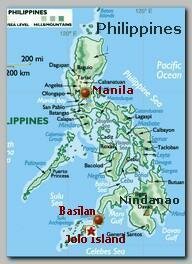 Seven soldiers, including a junior officer, were killed while 21 others were injured, on Thursday 07/28/2011 dawn, in an encounter with Abu Sayyaf bandits in Patikul town in Sulu (Jolo), in the Southern Philippines, a known stomping ground of the Al Qaeda-linked group.


The Abu Sayyaf who engaged the soldiers in a firefight were led by Radullan Sahiron, according to Lt. Col. Randolph Cabangbang, spokesman of the Armed Forces' Western Mindanao Command.
Cabangbang said the soldiers, who were from the Marine Battalion Landing Team 11, were maneuvering inside the enemy camp when the bandits, led by Radulan Sahiron, attacked them.
Cabangbang said the fighting lasted until 9:30 a.m. It was not clear if the Abu Sayyaf suffered any casualty.
The Abu Sayyaf is a loosely organized band of Islamic fundamentalists responsible for kidnapping and bombing attacks in Mindanao and Metro Manila in the past. 
* Related topics ; 
Read more ;