– HOTSPOT FOR TERROR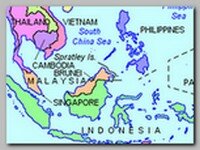 The Philippines has overtaken Indonesia and Thailand as the country facing the greatest threat from terrorism, according to FTI-International Risk, a security consultancy based in Hong Kong with offices in China.  FTI-International Risk is a subsidiary of Palm Beach, Florida-based FTI Consulting Inc. 
While the Philippines has made progress in containing the threat from armed groups such as the Abu Sayyaf, Moro Islamic Liberation Front -MILF and New Peoples' Army, it lagged behind other countries in the region, FTI-International Risk's Chairman Steve Vickers said in a report released on Tuesday 01/11/2011.
The U.S. State Department renewed its travel warning for the Philippines on 11/02/2010 citing an 10/2010 bus bombing that killed 10 people and warning attacks could extend "to include Manila" (see – Manila 11.02.10).  Philippines ranks 130 out of 149 countries in the 2010 Global Peace Index compiled by the Sydney-based Institute of Economics & Peace. Thailand ranked 124, and Pakistan 145.
"Pakistan, southern Thailand and southern Philippines are the places where, unless you have a very compelling reason, you should not be going without professional support," Vickers, who formerly commanded the Hong Kong Police Criminal Intelligence Bureau, said in a phone interview.
Indonesia's counter-terrorism program was successful in 2010, he said. Little progress had been made in tackling an insurgency in southern Thailand because the government there was distracted by violent protests in Bangkok, the FTI report said.
The trouble in the Philippines is largely isolated in the south of the country, and while the government has made progress in suppressing the Abu Sayyaf, "in quiet times, you see them going back to what they do best, which is small-scale kidnapping and ransom," Vickers said. "Some of it is purely criminal and has no link to terror groups," he said (see – Palawan Hijacking).
Edwin Lacierda, a spokesman for Philippines President Benigno Aquino, said the report overstated the threat. "It's a matter of perception," Lacierda said at a regular televised briefing. "The threat is not as grave as the think tank assesses it."
Between 2005 and 2010, 1,536 people were killed in terror attacks in the Philippines, including those staged by the two groups, according to the U.S. National Counter-Terrorism website.
Just two days earlier, suspected Muslim militants killed five businessmen in the southern Philippine province of Basilan, Xinhua news service reported, citing an official.
The armed conflict in Mindanao between the government and the Muslim rebels resulted in an economic loss of more than $10 billion between 1975 and 2002, according to the World Bank.
Meanwhile the Philippine government said, on Friday 01/4/2011, that it will resume formal peace talks with the country's main Muslim rebel group next month with the mediation of Malaysia.

 
* Related topics ;
09/2010 -ABDUkARIM SALI KILLED IN THE PHILIPPINES 
************************
INTL-RISK.COM