– OBAMA CONFIRMS U.S REGULARLY STRIKES IN PAKISTAN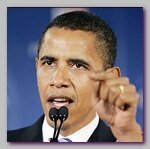 US President Barak Obama has confirmed, on Monday 01/30/2012, that UAV drones regularly strike suspected militants in Pakistan's tribal areas. Mr Obama called the strikes a "targeted focused effort at people who are on a list of active terrorists". Actually President Obama confirmed continuous violation of Pakistan's sovereignty and that Pakistan is a sort of "safe haven" to Jihadi militants (see – Ambiguous Ties).
Mr Obama made his comments during an hour-long video "hangout" on Google's social network, Google+, which was also streamed live on Youtube. More than 130,000 questions were submitted before the hangout began, and six people were invited to join the president online for the event. They were able to ask questions and seek follow-up answers from Mr Obama.
Asked about the use of drone strikes, which have increased in intensity during his presidency, he said "a lot of these strikes have been in the FATA", or Pakistan's Federally Administered Tribal Areas. The strikes target "Al Qaeda suspects who are up in very tough terrain along the border between Afghanistan and Pakistan," Mr Obama added.
"For us to be able to get them in another way would involve probably a lot more intrusive military action than the ones we're already engaging in."
According to the AFP news agency, 64 US missile strikes were reported in the area in 2011, down from 101 in 2010.They often cause outrage in Pakistan, where many assert that the strikes cause indiscriminate civilian deaths and injuries.
Anti-American feeling flared in Pakistan in the wake of the US special operations mission that killed Osama Bin Laden in 2011 (see – Abbottabad Raid ).
 Related topics ;
– 
10/2011 -U.S DRONE KILLED 2 PAKISTANI MILITANTS  
09/2011 -AMERICAN DRONE CRASHED IN PAKISTAN  
08/2011 -23 MILITANTS KILLED BY A U.S DRONE IN PAKISTAN  
*******************************
Read more ;