BBC News
– 9 SOLDIERS KILLED IN AFGHANISTAN
Published
November 11, 2007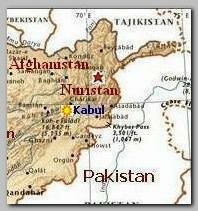 On 11/09/2007 after noon a well planned Taliban ambush opened fire on a military convoy of mixed Afghan and USA soldiers. 9 soldiers have been killed in the shootout, 6 American and 3 Afghans. Eight US troops and 11 Afghans were also wounded. A US military spokesman described the attack as a "complex ambush".
The convoy was attacked on its way back to Kabul from a meeting with village elders in Nuristan Province. 
The latest casualties bring US fatalities this year in Afghanistan to 101. About 40,000 soldiers are under the command of NATO-ISAF (International Security Assistance Force) in Afghanistan. 
* Related topics ;
–
04/2007 – NEXT GENERATION OF JIHAD
07/2007 – OPORTUNITIES FOR JIHAD
09/2007  MANY KILLED IN KABUL, AFGHANISTAN   
**************************
Read more ;