– AN ISLAMIC CELL OF 5 UNCOVERED IN LUTON, U.K
–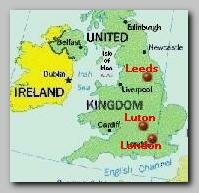 Police smashed a suspected terrorist cell on Monday 04/23/2012, after arresting five men during dawn raids in Luton. Counter-terrorism officers from Scotland Yard carried out the raids, which were described as significant and the culmination of a long-running investigation. Sources played down any links to the Olympics or Government plans to deport radical cleric Abu Qatada (see also 2004 Luton Cell).
Police swooped in the Bury Park area of the town in the wake of a number of searches last September. Detectives are said to have spent months analysing computer files before deciding to arrest the men (see -Operation Pitsford).
The suspects, aged between 21 and 35, are being held on suspicion of the commission, preparation or instigation of acts of terrorism, and are thought to include two taxi drivers and a security guard. No weapons were found. One neighbour claimed that one of those arrested had previously protested against British military parades (see – Luton 01.11.10).
Imran Shehzad, 34, named his brother Umar  Arshad, 23, as one of those arrested, although he has not been formally identified by police. He said: 'This started in September when the police came. They seized laptops and kids' project books.' The raids come the same week that mass killer Anders Breivik, on trial for the massacre of 77 people, told a Norwegian court that Muslims want sharia law in 'places like Luton' (see – Utoeya Carnage).
The searches at the five separate addresses in the Bury Park area of Luton were expected to take at least 24 hours. Homes were being searched in Bishopscote Road, Maidenhall Road, Crawley Green Road, Cornel Close and Shaftesbury Road. Bury Park is the home of Luton Central Mosque.
One of the homes raided by anti terrorist police is home to a Bangladeshi family, it is understood. The extended three bedroomed semi in Maidenhall Road had been raided by the police on an earlier occasion, neighbours said.
FLuton has long been associated with fundamentalists, including the 2010 Stockholm suicide bomber Taimour al-Abdaly, and Salahuddin Amin, who was jailed for life in 2007 for planning fertiliser bomb attacks on a shopping centre and nightclub.  
* Four of the Luton suspects
Zahid Iqbal
, 30,
Mohammed Sharfaraz Ahmed
, 24,
Syed Farhan Hussain
, 21, and
Umar  Arshad
, 23, appeared for a 20-minute hearing at Westminster magistrates court in central London, on Monday 04/30/2012. The fifth man was released without charge because of insufficient evidence.
The four defendants became known as the 'Luton Four'.
They were accused of a range of terrorist offences including discussing plans for carrying out attacks with guns and explosives and of having downloaded documents that were likely to be useful for terrorists. They included the Al Qaeda manual, the Explosives Course- Techniques of Silent Killing and 44 Ways to support Global Jihad. Each man was also accused of having six copies of the Al Qaeda INSPIRE MAGAZINE. The men were charged with alleged offences covering a period from January 2011, to 25 April 2012. The alleged conduct linked to terrorism included encouraging travel overseas, organising physical training and buying survival equipment, according to the charge sheet. The four defendants were also accused of collecting and supplying funds for terrorist purposes overseas. District Judge Daphne Wickham remanded the men in custody, to appear at the Old Bailey on 11 May.
Zahid Iqbal is accused of being part of a terror network under the instruction of shadowy Al Qaeda masterminds in Pakistan. He was joined in the dock by close friends Mohammed Sharfaraz Ahmed, Umar  Arshad and Syed Farhan Hussain. The gang are accused of working to recruit others to fight jihad and raising funds.
Sharfaraz Ahmed is accused of acting as a recruiter and making an 'explorative visit' to Pakistan. Syed Farhan Hussain is alleged to have been the quartermaster who specialised in the distribution of funds and provisions. Umar  Arshad's role was allegedly to provide practical guidance on activities abroad, what to wear to fit in and to lead the outdoor training.
 * Related topics ;  
–
04/2012 -U.K CAN EXTRADITE 5 ISLAMIC RADICALS TO U.S  
04/2012 -SYSTEM IN MADNESS  
*************************************
Read more:
DAILYMAIL
THESUN
MORE IN DAILYMAIL
INDEPENDENT-U.K